Your company is ready to build a customer-centric culture, and has committed to gathering and acting on customer feedback with a Voice of Customer program. Congratulations - that's fantastic! Now it's time to design your first customer survey.

In this session, we'll review the 5 questions you need to ask in your customer survey to get high response rates and actionable results that you can use right away to start improving customer experience at your organization.
○ ○ ○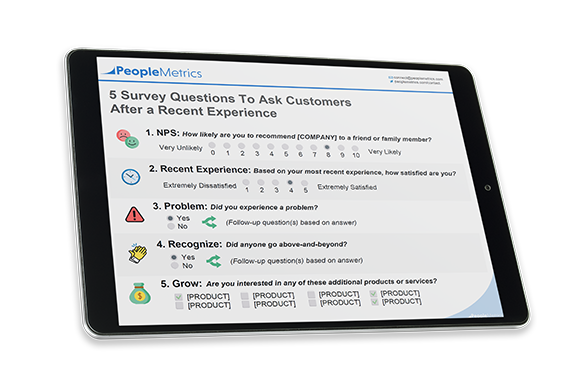 Download the chart from this video
○ ○ ○
TRANSCRIPT:
[COMING SOON]
○ ○ ○
PeopleMetrics LIVE! is a free online session where experience measurement experts from our team answer YOUR questions about CX, EX, Pharma Patient Support Services and more. Tune in for short, casual conversations every Tuesday at 2:00pm ET.
○ ○ ○
Sign up for more PeopleMetrics LIVE! sessions:
https://www.peoplemetrics.com/en/events
Discover our award-winning Customer Experience (CX) blog:
https://www.peoplemetrics.com/blog
Explore our CX solutions, designed to deliver a consistent experience every time... your dedicated account manager brings 20+ years of CX expertise into your program, with unlimited users to give everyone access to CX insights: https://www.peoplemetrics.com/solutions/b2c-customer-experience
Read our CEO's book Listen or Die: 40 Lessons That Turn Customer Feedback Into Gold"
https://www.peoplemetrics.com/listen-or-die
Contact PeopleMetrics:
https://www.peoplemetrics.com/contact
○ ○ ○
FOLLOW US ON SOCIAL!
YouTube:
https://www.youtube.com/channel/UCbISqzSlTGKU4MPgfxmMiEA
LinkedIn:
https://www.linkedin.com/company/peoplemetrics
Twitter:
https://twitter.com/PeopleMetrics
Instagram:
https://www.instagram.com/peoplemetrics
Facebook:
https://www.facebook.com/PeopleMetrics
○ ○ ○
survey questions to ask customers, survey questions, survey questions to ask, survey questions examples, survey questions for customers, customer survey, survey question, survey design, customer survey question, good survey question, customer experience expert, customer surveys, customer feedback, best survey questions to ask customers, peoplemetrics, peoplemetrics live, customer experience strategy best practices, voice of the customer program, customer experience survey
Posted on 05-27-2021