Voice of Customer (VoC) programs use two types of surveys to gather customer feedback: relationship surveys and transactional surveys.
A relationship survey is used to gauge the strength of the overall relationship with a customer, and a transactional survey is used to understand how the latest interactions with customers are going. The best VoC programs use both.
In this session, we review 9 key differences between transactional and relationship surveys, share example survey questions, and explain how to use both types of surveys to measure, manage and improve customer experience.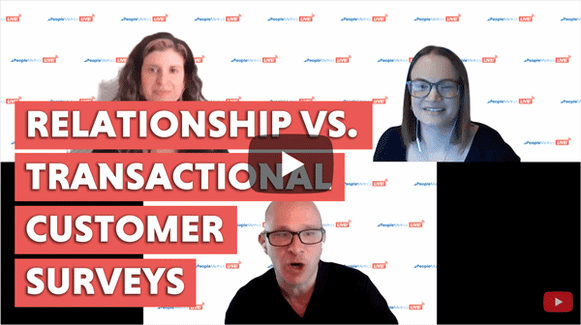 ○ ○ ○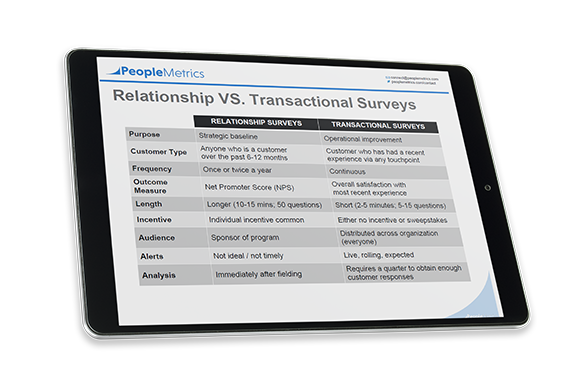 Download the chart from this video
○ ○ ○
PeopleMetrics LIVE! is a free online session where experience measurement experts from our team answer YOUR questions about CX, EX, Pharma Patient Support Services and more. Tune in for short, casual conversations every Tuesday at 2:00pm ET.
○ ○ ○
Sign up for more PeopleMetrics LIVE! sessions:
https://www.peoplemetrics.com/en/events
Discover our award-winning Customer Experience (CX) blog:
https://www.peoplemetrics.com/blog
Explore our CX solutions, designed to deliver a consistent experience every time... your dedicated account manager brings 20+ years of CX expertise into your program, with unlimited users to give everyone access to CX insights: https://www.peoplemetrics.com/solutions/b2c-customer-experience
Read our CEO's book Listen or Die: 40 Lessons That Turn Customer Feedback Into Gold"
https://www.peoplemetrics.com/listen-or-die
Contact PeopleMetrics:
https://www.peoplemetrics.com/contact
○ ○ ○
FOLLOW US ON SOCIAL!
YouTube:
https://www.youtube.com/channel/UCbISqzSlTGKU4MPgfxmMiEA
LinkedIn:
https://www.linkedin.com/company/peoplemetrics
Twitter:
https://twitter.com/PeopleMetrics
Instagram:
https://www.instagram.com/peoplemetrics
Facebook:
https://www.facebook.com/PeopleMetrics
○ ○ ○
relationship vs transactional surveys, transactional vs relationship customer feedback, difference between transactional surveys and relationship surveys, relationship and transactional surveys, transactional vs relationship survey, transactional survey examples, transactional survey best practices, transactional csat, transactional survey question examples, relational survey questions, transactional net promoter score, what is a relationship survey, peoplemetrics, peoplemetrics live
Posted on 04-15-2021