Customer survey comments

(i.e. open-ends; unstructured feedback; verbatims) are incredibly valuable because they indicate WHY people feel the way they do. Without this additional context, experience measurement professionals wouldn't have enough information to determine the best way to go about fixing respondent problems.

Good open-ended survey questions allow respondents to provide feedback in their own words via qualitative free-form written text fields. These customer survey comments contain GOLD, but because of their unstructured nature, they are difficult to analyze manually. Make sure you've got a system in place that enables you to quickly and easily analyze and understand your customer survey comments at scale.

In this session, we'll show you different ways to get the most out of unstructured customer survey comments within the PeopleMetrics Experience Management Platform, including open-ended coding and categorization, keyword search and text analytics.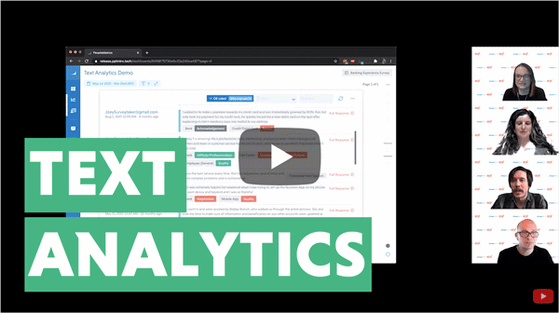 ○ ○ ○
PeopleMetrics LIVE! is a weekly live webinar session where experts from our team answer YOUR questions about customer, employee and patient experience measurement and management – and sometimes we show you how you can achieve your goals using tools within our experience management platform. Tune in for short, casual conversations every Tuesday at 2:00pm ET.
○ ○ ○
Sign up for more PeopleMetrics LIVE! sessions:
https://www.peoplemetrics.com/en/events
Discover our award-winning Customer Experience (CX) blog:
https://www.peoplemetrics.com/blog
Explore our CX solutions, designed to deliver a consistent experience every time... your dedicated account manager brings 20+ years of CX expertise into your program, with unlimited users to give everyone access to CX insights: https://www.peoplemetrics.com/solutions/b2c-customer-experience
Read our CEO's book Listen or Die: 40 Lessons That Turn Customer Feedback Into Gold"
https://www.peoplemetrics.com/listen-or-die
Contact PeopleMetrics:
https://www.peoplemetrics.com/contact
○ ○ ○
FOLLOW US ON SOCIAL!
YouTube:
https://www.youtube.com/channel/UCbISqzSlTGKU4MPgfxmMiEA
LinkedIn:
https://www.linkedin.com/company/peoplemetrics
Twitter:
https://twitter.com/PeopleMetrics
Instagram:
https://www.instagram.com/peoplemetrics
Facebook:
https://www.facebook.com/PeopleMetrics
○ ○ ○
understand customer survey comments, customer survey comments, survey comments, open-ends, unstructured feedback, verbatims, experience measurement, open-ended survey questions, qualitative feedback, analyze customer survey comments, unstructured survey comments, open-ended coding, text analytics, analyze qualitative data from a survey, open ended questions, questions, open-ended, how to, tutorial, analysis, qualitative, data analysis, open ended question, questionnaire, online survey, walkthrough, analyze, open-ended responses, surveys, peoplemetrics, peoplemetrics live
Posted on 03-25-2021