The year 2020 taught HR teams that inspiring, motivating and engaging remote employees can be challenging -- especially if your organization doesn't have a system in place for consistently measuring and managing key drivers of employee engagement and performance.
In this session, we show you how you can use experience management tools like PeopleMetrics to regularly collect feedback from both onsite and offsite employees that will help inform your strategy. You can use either of our two bulletproof strategies to increase employee productivity and overall engagement - especially for those working remotely.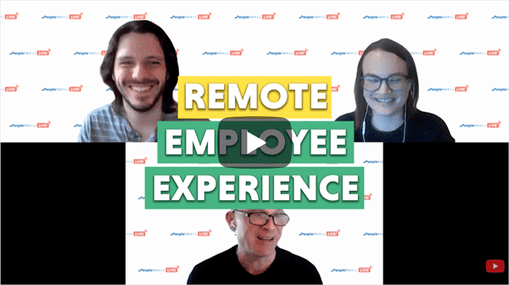 ○ ○ ○
PeopleMetrics LIVE! is a weekly live webinar session where experts from our team answer YOUR questions about customer, employee and patient experience measurement and management – and sometimes we show you how you can achieve your goals using tools within our experience management platform. Tune in for short, casual conversations every Tuesday at 2:00pm ET.
○ ○ ○
Sign up for more PeopleMetrics LIVE! sessions:
https://www.peoplemetrics.com/en/events
Discover our Employee Experience (EX) blog:
https://www.peoplemetrics.com/ex-blog
Explore our EX solutions, designed to help you attract and retain top talent... our modern survey model uses questions that drive the employee experience today and offers benchmarks to show you where you stand on key drivers in your industry:
https://www.peoplemetrics.com/solutions/employee-experience
Read our CEO's book Listen or Die: 40 Lessons That Turn Customer Feedback Into Gold:
https://www.peoplemetrics.com/listen-or-die
Contact PeopleMetrics:
https://www.peoplemetrics.com/contact
○ ○ ○
FOLLOW US ON SOCIAL!
YouTube:
https://www.youtube.com/channel/UCbISqzSlTGKU4MPgfxmMiEA
LinkedIn:
https://www.linkedin.com/company/peoplemetrics
Twitter:
https://twitter.com/PeopleMetrics
Instagram:
https://www.instagram.com/peoplemetrics
Facebook:
https://www.facebook.com/PeopleMetrics
○ ○ ○
how to measure remote employee experience, measure remote employee experience, remote employee experience, hr, remote employees, key drivers of employee engagement, key drivers of employee performance, collect feedback from offsite employees, increase employee productivity, working remotely, remote work, employee experience, what is employee experience, what is employee experience?, future of work, human resources, employee engagement, hr to employee experience, internal communications, remote employees, managing remote employees, business, software, technology, peoplemetrics, peoplemetrics live
Posted on 04-01-2021