Including the patient's voice in clinical trials drives key outcomes such as patient recruitment and retention.

In this session, we discuss how Pharma companies can optimize future trials and protocols by using Pharma CX (creating, measuring and managing the patient experience) to facilitate patient enrollment, minimize the burden of patient participation, increase patient retention, and ultimately drive better outcomes in clinical trials.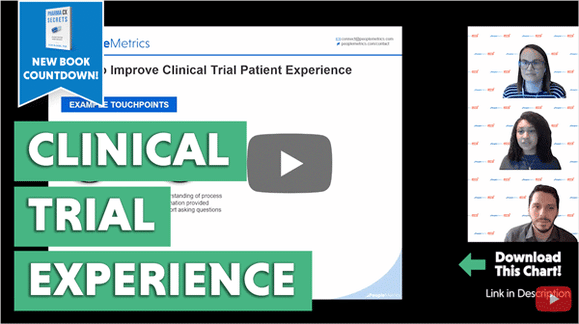 ○ ○ ○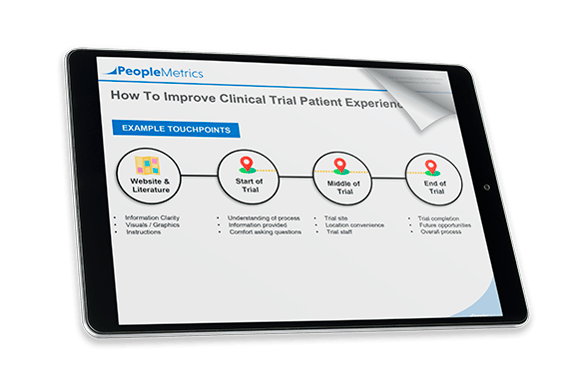 Download the chart from this video
○ ○ ○
TRANSCRIPT:
[COMING SOON]
○ ○ ○
PeopleMetrics LIVE! is a free online session where experience measurement experts from our team answer YOUR questions about CX, EX, Pharma Patient Support Services and more. Tune in for short, casual conversations every Tuesday at 2:00pm ET.
○ ○ ○
Sign up for more PeopleMetrics LIVE! sessions:
https://www.peoplemetrics.com/en/events
Discover our Pharma CX blog:
https://www.peoplemetrics.com/px-blog
Explore our Pharma CX solutions, designed to help you achieve better outcomes through real-time feedback from patients, caregivers and HCPs... with over 20+ years of Pharma expertise, you can trust PeopleMetrics to help you measure and improve the patient experience from clinical trials to patient support services:
https://www.peoplemetrics.com/solutions/patient-experience
Be the first to know when our CEO's new book, Pharma CX Secrets: 20 Secrets for True Patient-Centricity becomes available on Amazon:
https://www.peoplemetrics.com/pharma-cx-secrets
Read our CEO's book Listen or Die: 40 Lessons That Turn Customer Feedback Into Gold:
https://www.peoplemetrics.com/listen-or-die
Contact PeopleMetrics:
https://www.peoplemetrics.com/contact
○ ○ ○
FOLLOW US ON SOCIAL!
YouTube:
https://www.youtube.com/channel/UCbISqzSlTGKU4MPgfxmMiEA
LinkedIn:
https://www.linkedin.com/company/peoplemetrics
Twitter:
https://twitter.com/PeopleMetrics
Instagram:
https://www.instagram.com/peoplemetrics
Facebook:
https://www.facebook.com/PeopleMetrics
○ ○ ○
clinical trials, research, clinical trial, therapies, pharmaceutical industry, pharma industry, pharma, pharma customer journey, patient experience, patient journey map, pharma customer experience, peoplemetrics, peoplemetrics live, customer experience, customer journey, clinical trials experience, patient engagement in clinical trials, clinical trials participant, development, healthcare, patient journey, pharma, pharmaceutical, innovation, pharmaceutical industry, customer experience, cx, pharma cx, clinical patient experience, clinical trial patient experience, patient experience clinical outcomes, pharma patient journey
Posted on 05-20-2021