Best-in-class patient support programs are the price of admission for successful product launches, whether they're in-house or outsourced; with dedicated case managers or fully digital.

76% of patients expect their Pharma provider to offer patient support programs, and 85% of Pharma companies are expected to increase investment in these types of programs in the future (Accenture).

In this session, we review 3 ways you can set your company apart from the competition by laser-focusing on improving the experience patients have with your patient support programs.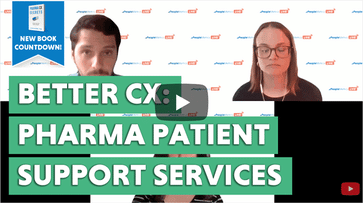 ○ ○ ○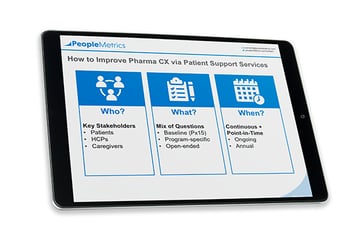 Download the chart from this video
○ ○ ○
TRANSCRIPT:
[COMING SOON]
○ ○ ○
PeopleMetrics LIVE! is a free online session where experience measurement experts from our team answer YOUR questions about CX, EX, Pharma Patient Support Services and more. Tune in for short, casual conversations every Tuesday at 2:00pm ET.
○ ○ ○
Sign up for more PeopleMetrics LIVE! sessions:
https://www.peoplemetrics.com/en/events
Discover our Pharma CX blog:
https://www.peoplemetrics.com/px-blog
Explore our Pharma CX solutions, designed to help you achieve better outcomes through real-time feedback from patients, caregivers and HCPs... with over 20+ years of Pharma expertise, you can trust PeopleMetrics to help you measure and improve the patient experience from clinical trials to patient support services:
https://www.peoplemetrics.com/solutions/patient-experience
Be the first to know when our CEO's new book, Pharma CX Secrets: 20 Secrets for True Patient-Centricity becomes available on Amazon:
https://www.peoplemetrics.com/pharma-cx-secrets
Read our CEO's book Listen or Die: 40 Lessons That Turn Customer Feedback Into Gold:
https://www.peoplemetrics.com/listen-or-die
Contact PeopleMetrics:
https://www.peoplemetrics.com/contact
○ ○ ○
FOLLOW US ON SOCIAL!
YouTube:
https://www.youtube.com/channel/UCbISqzSlTGKU4MPgfxmMiEA
LinkedIn:
https://www.linkedin.com/company/peoplemetrics
Twitter:
https://twitter.com/PeopleMetrics
Instagram:
https://www.instagram.com/peoplemetrics
Facebook:
https://www.facebook.com/PeopleMetrics
○ ○ ○
patient support programs, patient support program, types of patient support programs, future of patient support programs, best-in-class patient support programs, case manager, accenture, investment, patient experience, customer experience, pharma customer experience, pharma customer, digital patient support programs, patient services, pharmaceutical industry, pharma industry, pharmaceuticals, patient feedback, product launch, pharma product launch, pharma product, peoplemetrics, peoplemetrics live, cem, customer experience strategy
Posted on 06-17-2021