Patient Services are a critical aspect of the patient experience.
Patients expect Pharma companies to offer services to help them access, afford and understand their therapy. This ultimately leads to more successful treatment journeys.
Physicians are seeing the link between Patient Services and adherence.
And Pharma is investing heavily in these services – either directly or through partner HUBs.
In short - Patient Services are here to stay.
Over the past 4 years, PeopleMetrics has listened to feedback from over 4000 patients about their experience with Patient Services.
We found patterns that emerged from this patient feedback, and distilled them into 8 lessons, which I shared in last week's webinar: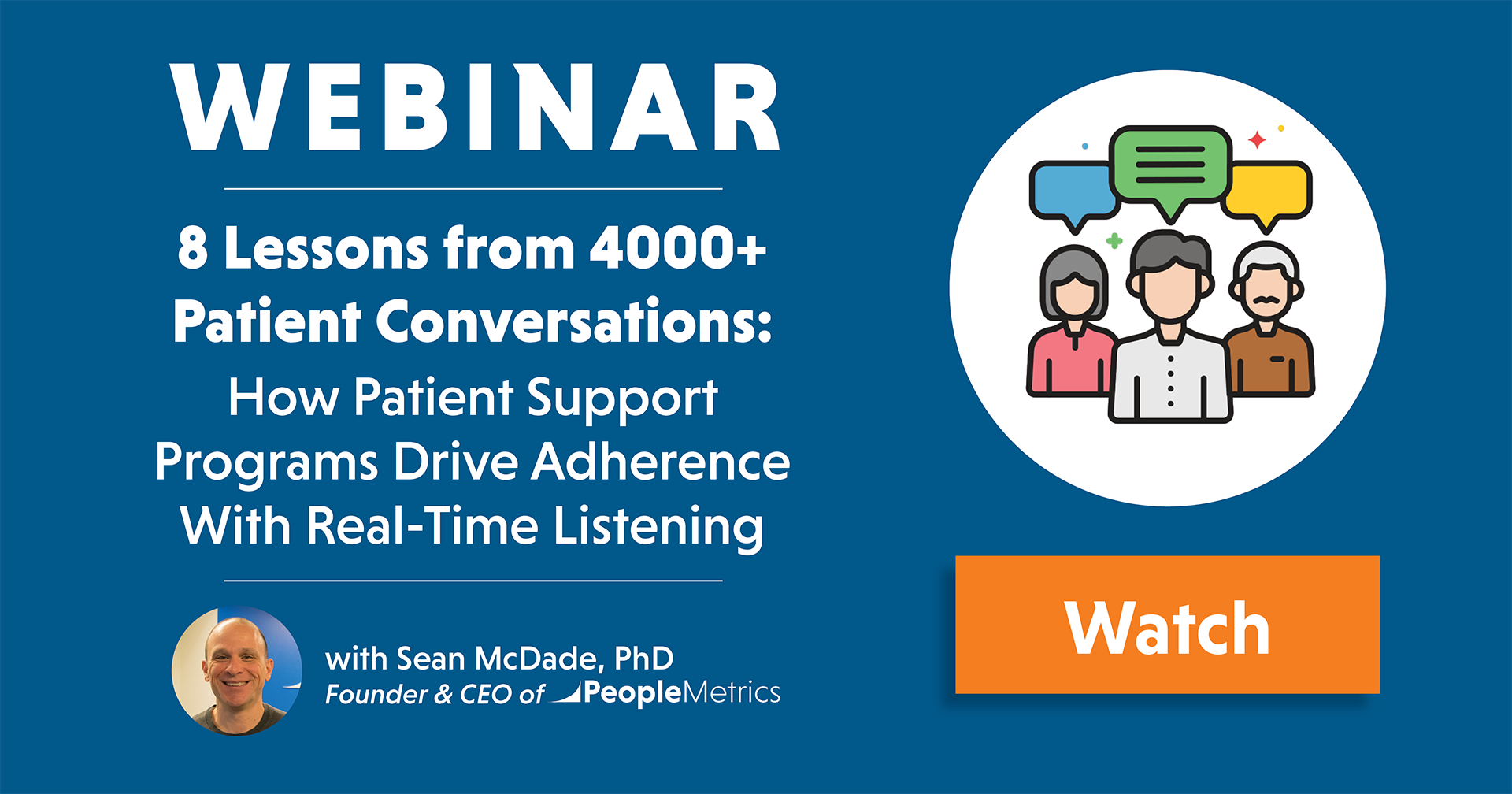 Click here to watch the recording


I hope you find the lessons valuable, and that they enable you to offer the best patient experience possible!
Want to do more with your patient feedback?
Contact PeopleMetrics:
About the Author
Sean McDade, PhD is the author of Listen or Die: 40 Lessons That Turn Customer Feedback Into Gold. He founded PeopleMetrics in 2001 and is the architect of the company's customer experience management (CEM) software platform. As CEO, he guides the company's vision and strategy. Sean has over 20 years of experience helping companies measure and improve the customer experience. Earlier in his career, he spent five years at the Gallup Organization, where he was the practice leader of their consulting division. His company offers CEM software with advanced machine learning solutions and hands-on analytical support to help companies make sense of their CX data. Sean holds a Ph.D. in Business Administration with a specialization in marketing science from Temple University in Philadelphia. He has published eight articles in peer-reviewed scholarly journals and has taught over 25 marketing classes. Sean was named a 40 under 40 award recipient of the Philadelphia region. He is an active Angel Investor, including investments in Tender Greens, CloudMine and Sidecar. Click here to get in touch.
Posted on 05-14-2019