3 Digital Patient Engagement Strategies for Pharma
Adoption of digital patient engagement tools,

offerings and solutions drives a better patient experience with pharmaceutical patient support services. Digital health is on the rise, and the consumer experience in healthcare should blend seamlessly into patients' lives.

This free tool will walk you through 3 patient engagement strategies based on our proprietary research that you can leverage within a digital environment to better meet their needs and improve overall experience from the patient's perspective.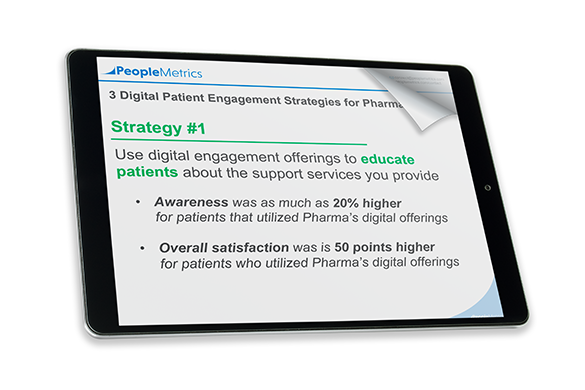 "PeopleMetrics has been an outstanding partner! They are very knowledgeable and personable, and have helped us navigate the build up of our survey program with grace and ease."

Regional Manager, U.S. Patient Services
Global Pharmaceutical Manufacturer
"PeopleMetrics has been a fantastic partner at every step of the adoption curve in terms of flexibility to develop system enhancements and tailor to our needs. Account management has been stellar."

Director, Customer Experience
Leading Hospitality & Lifestyle Brand