How to Improve Clinical Trial Patient Experience
3 Steps for Successfully Collecting Patient Feedback with Example Touchpoints
Including the patient's voice

in clinical trials drives key outcomes su

ch as patient recruitment and retention. Knowing site performance on controllable attributes and taking corrective action can make all the difference, but planning ahead is key.
Use this tool as a guide for including patient feedback in clinical trials.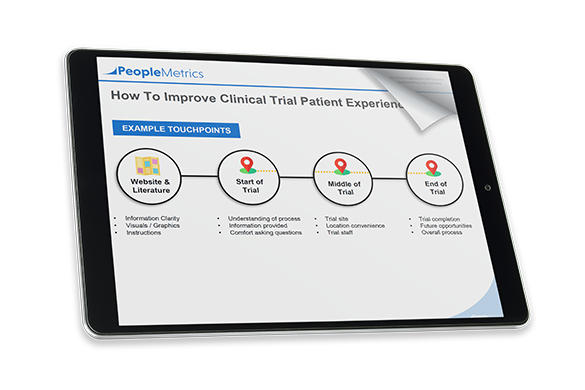 "PeopleMetrics has been an outstanding partner! They are very knowledgeable and personable, and have helped us navigate the build up of our survey program with grace and ease."

Regional Manager, U.S. Patient Services
Global Pharmaceutical Manufacturer
"PeopleMetrics has been a fantastic partner at every step of the adoption curve in terms of flexibility to develop system enhancements and tailor to our needs. Account management has been stellar."

Director, Customer Experience
Leading Hospitality & Lifestyle Brand