Investing in closed-loop customer feedback is great. Suddenly people at all levels of your organization are receiving a daily influx of customer insight. Customers are telling them about problems they experienced, employees that went above and beyond for them, additional needs they have, and more! And while all this new information is wonderful, it's only as good as your organization's ability to effectively manage this new data stream.
Based on over 10 years of helping clients successfully implement Voice of the Customer programs, we've identified the following three approaches for managing customer feedback, why these work, and for whom.
Operator Ownership
In this approach every customer experience is tied to a physical location.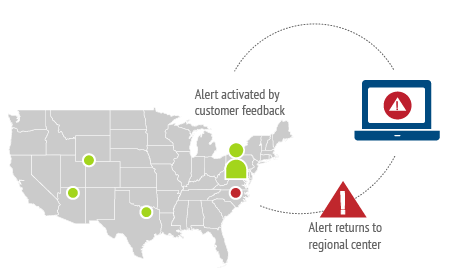 When a customer provides feedback, that feedback is automatically directed back to the operator of that location. What we often see is that these operators hold deep knowledge of the factors that created an experience, and are adept at understanding the best way to follow-up. For example, think about a recent hotel experience. The person who will be most interested in hearing about an employee who did something wonderful for you or ideas on how to improve the experience will be the General Manager of that hotel.
This approach works best for location-based businesses like hotels, restaurants, or banks. One real-life example of this is a client in the restaurant industry. One of their concepts has eight locations. Each location is run by a General Manager (the "operator"). The General Manager has primary responsibility for making sure the location runs smoothly. Taking action on customer feedback is then incorporated into the daily routine.
There's another type of environment in which this works very well, and that's in high-value professional services. For example, partners at an accounting firm will want to be solely responsible for following up with any client feedback. While the time commitment is bigger for these types of follow-ups, most partners will want to be the person to manage the relationship.
Would this approach work for you?
Do you have a location-based business or individuals who are directly responsible for the client relationship?

Will your operators resist this because they see it as additional work? If that's the case, resolution and commitment will drag and the customer experience will suffer further when operators are slow to or don't follow-up. Before you begin, you'll want to make sure that operators will recognize this feedback as a valuable opportunity to grow their customer relationships.

Do you have internal or external support to make follow-ups as easy as possible? Your Voice of the Customer software should include capabilities that make it easy to manage Alerts. In addition, you'll want to support your operators by providing them with instructions on how to best follow-up on different types of feedback as well as any materials that will assist them.
CX Intelligence Unit
In this approach there is no clear owner of the customer relationship.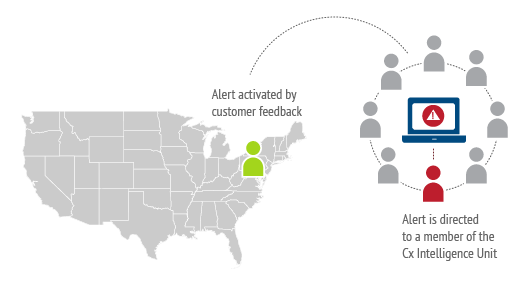 A real-life client example is a national communications company. The customer experience in this case is not tied to a particular location. Instead this company has 12 employees dedicated to following up on customer feedback generated from interactions with the company's 2,300 call center and field employees. This team is able to close nearly 50,000 alerts per month.
This approach works best for highly matrixed organizations where there isn't one person clearly responsible for the customer relationship. This approach allows a dedicated team to build an expertise in follow-ups.
Would this approach work for you?
Would your Alert volume to be high enough to justify building this team?

Can you make the business case for shifting members? New hires? Additional training on new processes?

Do you have a plan for how you will share customer feedback outside of the CX Intelligence Unit? In the Operator Ownership approach the operators are automatically exposed to customer feedback on a regular basis. The Cx Intelligence Unit approach, however, is vulnerable to being "siloed," with customer feedback only staying in the groups responsible for it. It requires a plan for distributing customer insights throughout the organization in other ways to keep people in touch with customer feedback.
Hybrid
In this approach the Alert is "split" to share the responsibility of follow-up actions.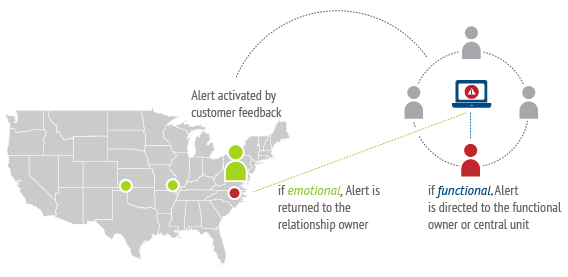 A real-life example of this approach is a client in B2B supply. The sales are often high-value and the reps take pride in building strong relationship with their clients. Because of this the reps are very interested in being looped-in on any feedback from their clients, but may not have the bandwidth to manage all aspects of the follow-up. The reps are responsible for managing the emotional aspects of the Alert like low engagement or improvement suggestions. The more functional parts of the Alert, like billing or shipping issues, are the responsibility of a team of about 31 managers closing about 23 of these Alerts per day.
This approach works well for companies selling complex products on an ongoing basis. In these companies, the best reps build lasting relationships with their clients and the feedback mechanism helps them to do so.
Would this approach work for you?
Is the owner of the customer relationship comfortable with other team members contacting the customer? Going back to the accounting firm example, most partners would not be comfortable having an outside team handle follow-up. The nature of the rep-customer relationship will have to be one in which the customer is accustomed to occasionally dealing with people in the company outside of their primary contact.

Have you clearly assigned responsibility for who will follow-up with what? Because this approach has more moving parts it increases the risk of over or under contacting customers. You'll need to have clear understanding on who is responsible for what types of feedback and how to manage follow-ups.

Do you have a CRM system or shared view into who is interacting with customers? Some type of case management system will be critical in providing transparency into the follow-up process. Reps will want to know that their customer problems are being resolved, and the whole process will need to be smoothly tracked.
There is no right or wrong way to managing customer feedback. The important thing is to figure out an approach that will work for your organization and your customers.
~Janessa Lantz