PeopleMetrics is proud to recognize its fifth-annual Brand Ambassador Award Winners. These individuals received the most customer recognition through PeopleMetrics customer experience software in 2014, proving their consistency in going above and beyond to deliver for customers.
Winners of the 2015 Award are:
Jen Beier of 1st National Bank
Brian Hecker, Partner at Crowe Horwath LLP
Michael Earles, Manager at Crowe Horwath LLP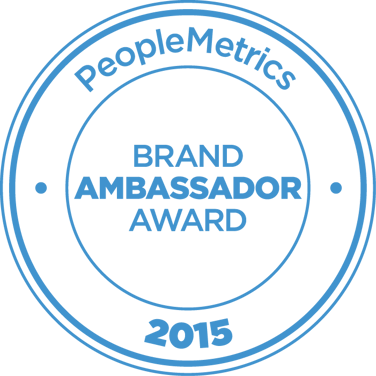 Three Qualities of Brand Ambassadors
Brand Ambassadors are invaluable to customer-centric cultures, as they consistently deliver on customer expectations and expand the boundaries of quality service.
Among other qualities, Brand Ambassadors tend to share three traits: they focus on people, they build relationships, and they create habits around customer service satisfaction.
Brand Ambassadors focus on the people-side of business, which can be seen in the amount of customer recognition they generate. They are attuned to customer and client needs. Nikki Bencik, a 2014 award winner from Crowe Horwath, notes:
"The bread and butter of any business are the clients. Don't forget that. They're people and like to be treated as people; get to know them, talk about their lives if for no other reason because it's harder to be angry with someone who has a face and is a person like you."
Brand Ambassadors also build relationships with their customers. They recognize the trust that customers have in them, and they don't take it lightly. Chris Patryn, who won a Brand Ambassador award in 2014 for American Hotel Register Company, uses a simple formula for communicating with customers:
"It might sound simple, but be nice! If you're honest, you build trust and you don't trip up. You don't have to try to keep your stories straight if they're the truth."
Last, Brand Ambassadors build customer service satisfaction into their daily responsibilities. They make habits of delivering for customers. Brittney Kocaj, another 2014 award winner from Crowe Horwath LLP, has the following description of how she works with clients:
"Providing an exceptional client experience means consistently going above and beyond. When it's ingrained in my daily routine, it's much easier to continue."
The Importance of Brand Ambassadors
PeopleMetrics CEO Sean McDade says it's important to identify and learn from Brand Ambassadors. They are innate experts in customer experience, and they can help improve customer experience from inside the company. McDade says, "Sharing their expertise throughout the organization is a powerful tool in achieving customer experience transformation."
PeopleMetrics is pleased to announce its 2015 award winners and congratulates the companies that employ them. Every year, in recognizing individuals and teams who embody customer experience excellence, PeopleMetrics can't help but get excited about the bright future ahead.
Want to learn more about customer centricity?
About PeopleMetrics
PeopleMetrics helps clients improve customer experience. Our customer experience management software makes it easy to collect and respond to customer and employee feedback. And our team makes customer experience strategy an engaging process. To learn more about PeopleMetrics and how we can help your company build a customer-centric culture, visit www.peoplemetrics.com.