You're probably familiar with the classic customer satisfaction survey. In fact, it's become the new normal for companies to bombard us with their requests for feedback. So, here at Interaction Metrics, we asked ourselves: sure companies ask their customers to share, but do companies really care about what their customers have to say? To get an answer, we did a study.
The Interaction Metrics 2016 Customer Listening Study evaluated the customer satisfaction surveys of 51 top US retailers. The first study of its kind, it found that retailers like Lowe's and Wal-Mart waste customers' time—and their own—with critically flawed surveys. No company used a completely scientific approach; nor did any company fully connect with customers in a thoughtful, compelling way.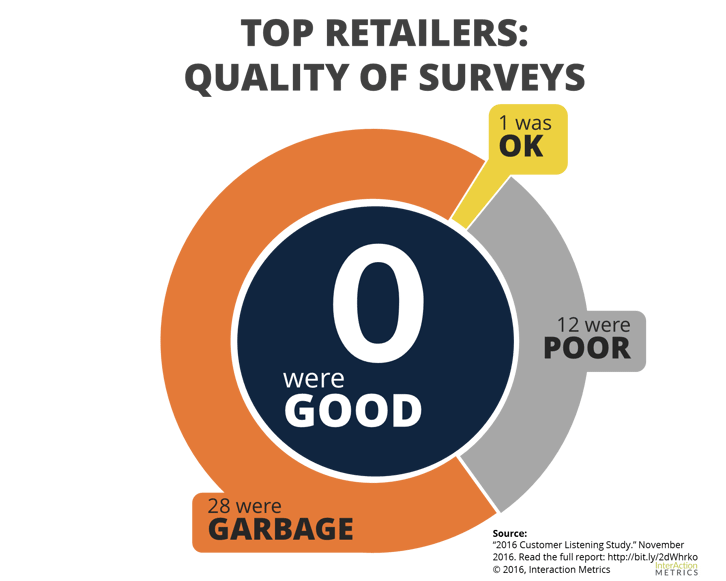 To compare the surveys, we objectively evaluated 15 survey elements covering areas such as information quality, customer engagement, and branding cues.
We found two main problems with the surveys:
Data inaccuracy.
Poor customer listening.
The average survey quality score was 43%—an F grade. We also found that:
With 23 questions on average, the surveys were excessively long.
92% of surveys had at least one leading question.
32% of all questions lead customers to give answers that companies want to hear.
82% of surveys had biased question wording.
63% of surveys had imbalanced answer scales, or labeled them with biased wording.
7-Eleven had the best survey—it was 13 questions, none of which were leading or used biased wording.
Nordstrom, the most known for customer service, stated its survey would take 2 minutes—but with 25 questions, it took 4-5 minutes.
This study highlights how easy it is to produce a flawed survey. Why does this matter? Because decisions based on inaccurate customer feedback are doomed to failure.
The retailers selected for the 2016 Customer Listening Study were the National Retail Federation's (NRF) top retailers, omitting supermarkets and membership stores. Surveys were collected between June 23 and July 27, 2016.
Martha Brooke is the Chief CX Analyst and Founder of Interaction Metrics, a customer experience agency that dramatically boosts the value of customer surveys, customer service evaluations, and customer experience planning.
To find out more about how the retailers' surveys stacked up, read the Study Report, or watch the 2-minute video. And if you want to get your survey ready for 2017, let's talk!
© Interaction Metrics 2016
--
Interested in more posts like these? Then subscribe to the PeopleMetrics blog and receive emails whenever we post new content:
About the Author

Martha Brooke is the Chief CX Analyst and Founder of Interaction Metrics, a customer experience agency that dramatically boosts the value of surveys, customer service evaluations, and other CX solutions. Interaction Metrics offers a free MetricsLAB™; it's a great way to learn about the pros and cons of various metrics, and the best ones to achieve your goals.