Today, content marketing is critical to your company's success, and utilizing social media is currently one of the best marketing strategies out there. Nearly everyone constantly carries a smartphone with them, and almost all of those people use Facebook. Why not utilize that fact to attract customers and build brand loyalty?


If you choose to leverage Facebook to post content for your customers, remember to avoid aggressive advertising and sales pitches – content is about making your customers happy, not only about marketing! This generation of consumers is pretty finicky, and they are quickly turned off by the type content that does nothing to engage them. What you should do instead is post interesting content that will activate their interest. Read on and find out how to do just that.
Post Creative Visual Content
People are visual creatures and something that catches their eye will make sure that your Facebook posts are not ignored. That's why it's always a great idea to stimulate your customers' senses with interesting images and videos. Not only will they come back for more of such content, they will most probably share it!
One of the companies that know how to draw in customers with visual content is Volkswagen. This company cogently tells the story of its brand by using pictures and videos featuring both their cars and customers. They show off their products in a personal and fun way, but they are far from being pushy.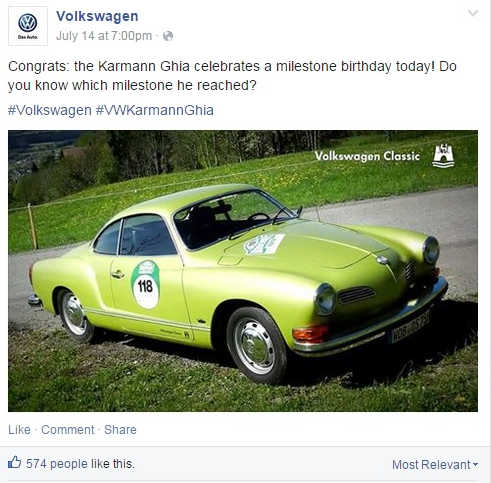 The people who follow the Volkswagen page can also connect with other Volkswagen lovers and "share" the stories they enjoy most. Their posts aren't about sales, which quickly gets old on customers' timelines. The posts are about experience.
If you want your customers to develop this kind of loyalty to your company, provide them with quality visual content that keeps them coming back to your Facebook page.
Provide Free, Useful Information
Giving your customers useful and actionable content will help them to develop trust in your brand. When you provide information that helps them, it's a way of saying you care about their success in life. Education and marketing are becoming increasingly intertwined, so try to think outside the box and regard your Facebook page as an effective ed-tech tool. It will pay off!
The most popular posts, the ones that go viral, are typically lists, how-to articles, industry advice, and other types of educational content that people can find value in. For example, it is always a good idea to show your customers how to use your products or teach them something new about your niche. People not only consume but also share such valuable information with their friends, and sharing quickly multiplies the number of people who are aware of your brand.
An example of a company that successfully educates its customers is Mint. What the company's content marketers do on Facebook is post helpful hints on financial matters without pushing any sales.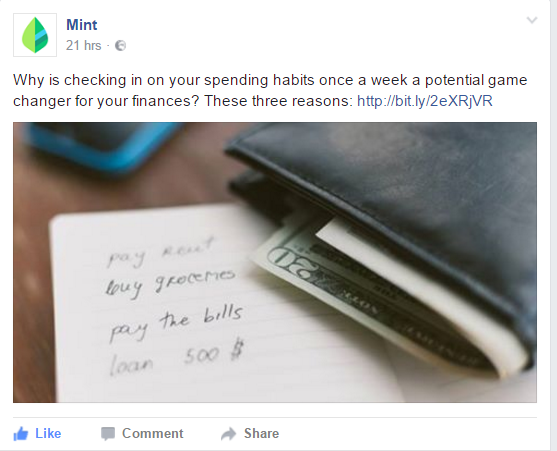 Mint's Facebook page draws customers in with quality information and keeps them coming back to learn more. Try to do the same on your Facebook page, and you will be surprised who quickly you will gain followers.
Involve Your Customers
If you receive great feedback and customer stories, don't be shy about sharing those reviews – people trust other people's opinions more than they trust advertising. The company Zappos utilizes this facet of Facebook very well. Their customer service is among the best in the industry – they post testimonials and respond to their customers on Facebook very fast, which shows others how much they care.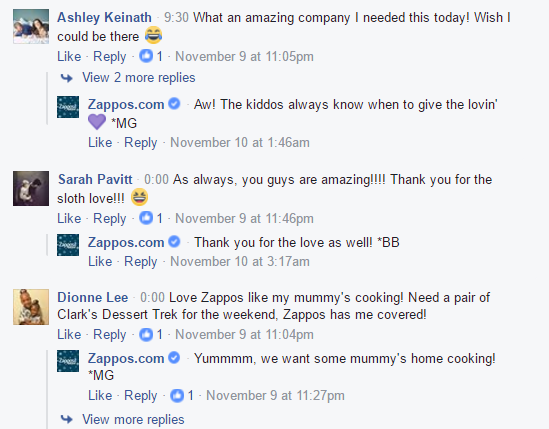 Universal Studios Orlando is another master of Facebook. Their page tells the stories of their guests visiting their park by using submitted pictures, or sharing their statuses. Seeing and reading how others enjoy the park surely attracts new customers who want to get in on the fun.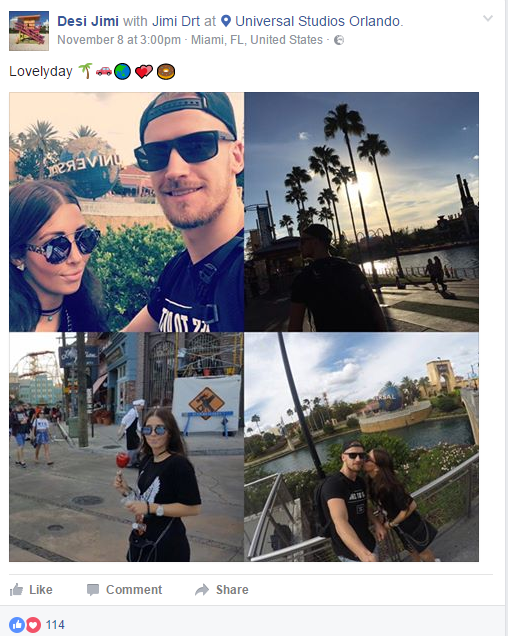 You can also share your followers' posts in which your company is mentioned or tagged in. This shows that you follow your fans and value them. Allow your customers to tell their story, which helps your brand appear more down-to-earth. Customers would much rather deal with a nice person than a formal and distanced entity, so don't be afraid to get personal.
Motivate and Encourage Your Followers
Motivation, encouragement, and empowerment are strong emotions that move a person to act. When you motivate your customers like FitBit and Gold's Gym do, it boosts their morale and makes them want to keep coming back for more. If they see that they are getting something from it, people are more willing to dedicate their time and effort to your posts.
Take a look at this example: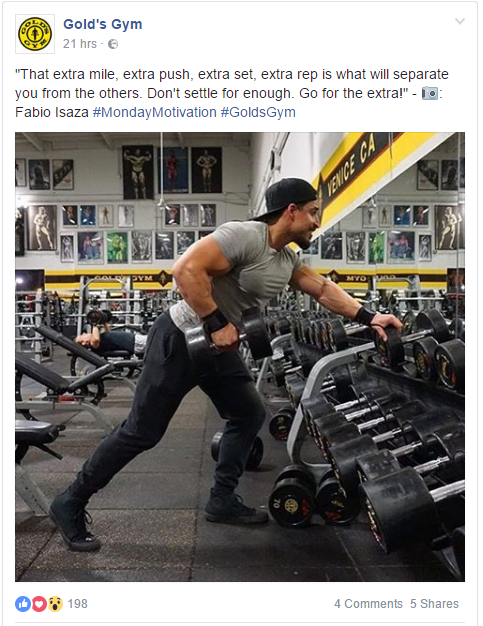 When you see something like this, it surely gives you that extra boost you need to go a step further. Do the same for your customers! While you may not need to encourage people to exercise, you will surely find another way to motivate your followers – all it takes is a bit of creativity.
Be Fun
Finally, show people that you have a fun side – they will appreciate it if you entertain them and come back for more laughs. So don't sound like a robot on Facebook, but be humorous and personal. For example, you can post industry jokes that don't reflect negatively on your company and are not offensive, or use tasteful humor in your customer interactions on Facebook.
Oreo is a brand well-known for their sense of humor. They use cartoons and images showing cookies doing fun things like swimming in a glass of milk. It's cute, fun, and effective.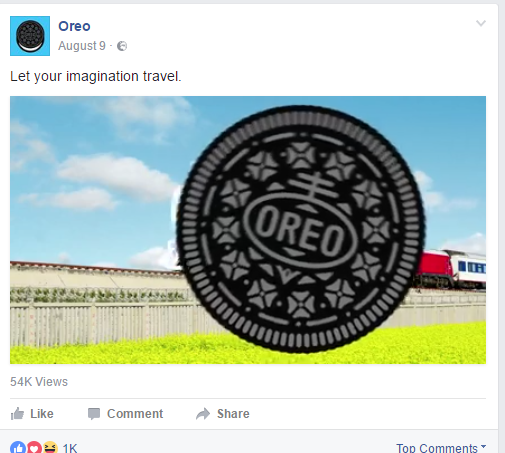 Utilize humorous text, pictures and memes to show that your company has a lighter, more fun side. Such content has a very strong sharing potential, so make sure not to miss the opportunity to make your brand more widely known that way.
Conclusion
Facebook is a great platform to show your company has a personal side and it allows you to take a vested interest in your customers' enjoyment of your brand. Customers like to know that they are valued and that their contributions to your success matter.
They also enjoy following Facebook pages that have useful, engaging, and fun content, which they will share with their friends. If you follow the rules above, you will quickly see the value in marketing through Facebook.