In an effort to discover the experts within our clients' companies that truly understand customer experience, we used customer feedback to identify those individuals who consistently deliver an exceptional customer experience. In 2011, we launched our first annual Brand Ambassador Awards to recognize these outstanding individuals.
After discovering who the best of the best are, we picked their brains to discover why they are the best of the best. The following are the experts' best practices for delivering exceptional customer experiences.
Like-Minded Teams Create Better Customer Experiences
Niki Bencik has been in her current role as a partner at Crowe Horwath LLP in the Federal Tax Group for three years (though she has been with the firm for seven), and is very proud of her team and the firm itself. "I would not be successful without the fantastic group of individuals on my team; they make me feel and look like a rock star."
Niki points out that she has some Brand Ambassador award-winning backup; the non-partner winner for Crowe this year was Brittney Kocaj, who is on Niki's team, and last year another teammate, Rachel Spurlock, won the title. "I would put them up against any team in the country," she says.
Employees That Are Responsive Simply Make Their Customers Happier
"I'll be the first to tell you that I don't always know everything," says Niki when asked about the methods that keep her customers happy, "but I do play by the 24-Hour Code. I will always return a call or email within 24 hours, even if it's just to say I'm looking into your question and will follow up with more information. This builds trust because when they make that call or write that email, that issue is at the front of their mind and important to them. This might be something that would keep them up at night, so why let that happen when a simple email could put them at ease? If I can alleviate their stress in any way I take advantage of it."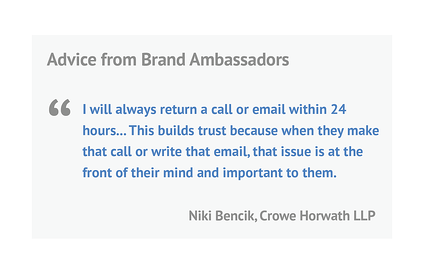 Make Sure Your Hiring Practices Are Aligned for Customer Centricity
Niki enjoys her clients and finds motivation in her desire to help them, and urges us to keep the customer in mind, no matter what. "The bread and butter of any business are the clients. Don't forget that. They're people and like to be treated as people; get to know them, talk about their lives if for no other reason because it's harder to be angry with someone who has a face and is a person like you."
Learning the Business Is Essential
Niki credits multiple personal mentors in her 17 years of experience. She muses that in the beginning, you try to emulate the people you look up to in your field and replicate the things you like about them, but eventually you find your own style.
She even mentions putting the newest members of the team right where the action is as soon as possible. "Try to immerse yourself in the environment and spend time with clients; even if you aren't contributing at first, you're absorbing and learning."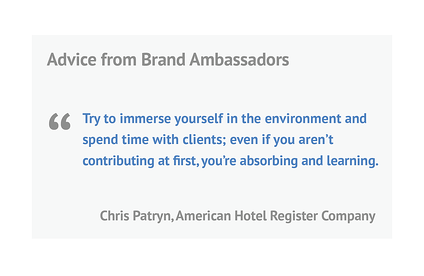 Don't Forget to Just Relax
Niki emphasizes that it's very important to unwind and have an off switch. "Have a vice to get back to balance. A vice can be anything, a jog, a trip, a picnic. You can't work all the time, and if you get too bogged down it's harder to do your job."
What You Can Learn (for Free) From Your Own Brand Ambassadors

Your Brand Ambassadors are your experts, tuned to your business, and closest to your customers. Utilize their knowledge. These individuals will give you a ground-level view of the customer's needs and wants.
Sit down with them, and just chat. Asking questions like, "What do you think customers really need?" and "What could we do better for the customers?" will give you insight you never had before.
If you don't know who your Brand Ambassadors are, simply pick a person that has received customer kudos most recently. Ask him/her questions about the specific event that warranted the positive customer feedback. I guarantee you'll come away from that "free" conversation with something that is priceless.
Become More Customer-Centric Today
Are you interested in discovering your true Brand Ambassadors? Do you want to be more customer-centric? Then check out our checklist below to learn more about putting yourself on the path to customer experience success.
Posted on 08-11-2014