For customer feedback to have an impact it must be firmly embedded in the operations of your company. Companies who have the most success in customer experience initiatives excel at "operationalizing" or, to put it more simply, taking smart action on customer feedback. For companies just beginning to collect feedback, or for those tired of seeing their customer survey budget go to waste – consider this your beginner's guide on how to derive maximum value from customer feedback.
Step 1 | Craft your customer experience transformation strategy.
Have you ever been asked to take a "5 minute survey about your experience" only to spend 30 minutes answering questions about every single aspect of the customer experience, including the things you didn't even experience?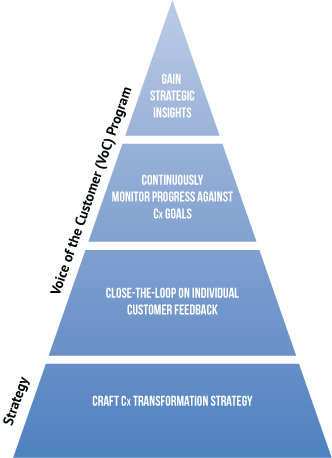 Starting with a strategy ensures you won't torture your customers in the same way. Your strategy will define what you measure, why you measure it, and how to act on it. It will help you plan how to fix the things your customers care most about right now, and also guide the prioritization of future improvements.
Step 2 | Close the loop on customer feedback.
Voice of the Customer software makes it incredibly easy for managers to take action on customer feedback in real-time, and your strategy should delineate who will be held accountable for acting on various kinds of feedback. Your customers will expect that if they bother to provide you with feedback, you will bother to act on it. So be clear on who gets what feedback, the appropriate follow-up actions, and then track that the people assigned to follow-up are doing so.
Step 3 | Continuously monitor progress.
Just as your customer experience strategy was used to inform when, where, and how you collect customer feedback, now your customer feedback should be used to measure and monitor against your strategy:
How are you performing at key Moments of Truth?
Are the changes you are making positively impacting the customer experience?
Employees should also be invited to be a part of customer feedback reviews. Whether it's using an internal newsletter to share progress toward your customer experience goals, a daily shift meeting to review changes in customer metrics, or just making a habit of sharing customer stories. Cultural alignment around the customer experience vision happens by always keeping the customer top-of-mind at all levels of the organization.
Step 4 | Gain strategic insights.
Root cause analysis is a powerful tool to help leaders identify the internal issues causing external problems for the customer. These insights can then be used to make the tough decisions around budget allocation and planning. In addition, these high-level insights should always be feeding into the customer experience strategy and guiding its ongoing development.
~Janessa Lantz