At PeopleMetrics, we often talk about creating an easy, or "frictionless" experience. The reason is that a great customer experience is usually about solving a problem with as little customer effort as possible. On a recent flight on American Airlines, however, I experienced the opposite of an easy experience - it indeed had quite a bit of friction and effort. Let me explain.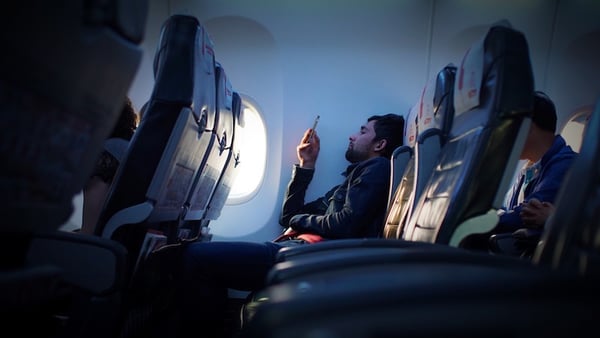 Photo by Javier Cañada on Unsplash.
Like most frequent business travelers, there are a few key touch points when traveling. Getting through security, getting on the plane, timely arrival, getting a preferred seat, and often most important, easily getting onto the Wi-Fi to get some work done. This is especially important during long-haul flights.
Before today, I considered the Wi-Fi experience on American to be exceptional.

Using Gogo internet, which has been American Airline's provider since this sort of thing was possible on airplanes, I had an account where all my credentials were stored on my computer. All I had to do to access in-flight Wi-Fi was wait until the plane was at the appropriate altitude, then click the login button, choose my plan and get to work! And with American Express Platinum, I had access to 10 free passes each year on Gogo, which made the experience even better. Talk about an easy, frictionless experience!
This time, things were not as easy.
On this flight, Gogo was not available, as American switched to Panasonic for Wi-Fi services. This seemingly minor change required me to create a new account for an additional service, complete with credit card information. Not only that, the valued benefit of my 10 American Express in-flight Wi-Fi passes were no longer available. So instead of simply clicking on a "free pass" as I did previously with Gogo, I had to first log in to an entirely new service, and then I was charged $19 for Wi-Fi on my Philadelphia to Las Vegas flight. But the biggest issue of all was that this time, the speed of the Wi-Fi was painfully slow. I was unable to access to Slack on my flight, which is my company's primary platform for internal communication, which in turn led to me getting less work done on the flight than usual. This was never an issue with Gogo.
A "moment of truth" touch point
This might seem like a minor issue in the grand scheme of things - after all, Wi-Fi is just one touch point on a flight out of many. But for me and, my guess, many frequent business travelers, it is a "moment of truth" touch point that often makes or breaks the experience. American Airlines turned the Wi-Fi experience from one that was easy and enjoyable to one that is clunky and full of friction. And I can only imagine how the true road warriors paying $49.95 a month for a Gogo internet subscription must feel when they have to pay again for yet another Wi-Fi provider!
What can we learn from this?
The lesson here for CX professionals is that if you have a service, product or process that is easy and your customers love, think long and hard before changing it. Especially if that change can be perceived as more difficult by your customers. Collecting feedback continuously on the customer experience will give you the information you need to know which touch points are working and which ones need change. Listen to your customers! They won't let you down.
Sean McDade founded PeopleMetrics in 2001 and he is the architect of the company's customer experience management (CEM) software platform. As CEO, he guides the company's vision and strategy. Sean has over 20 years of experience helping companies measure and improve the customer experience. Earlier in his career, he spent five years at the Gallup Organization, where he was the practice leader of their consulting division. His company offers CEM software with advanced machine learning solutions and hands-on analytical support to help companies make sense of their CX data. Sean holds a Ph.D. in Business Administration with a specialization in marketing science from Temple University in Philadelphia. He has published eight articles in peer-reviewed scholarly journals and has taught over 25 marketing classes. Sean was named a 40 under 40 award recipient of the Philadelphia region. He is an active Angel Investor, including investments in Tender Greens, CloudMine and Sidecar.
P.S. What did you think of this blog post?