This post is the third installment in a series covering individuals leading the customer experience transformation within their organizations.
American Hotel Register Company is committed to continually enhancing its customers' experience, and last year decided to take its dedication to providing world-class service and delivering the total solution to the next level.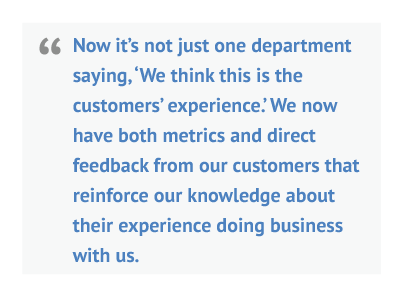 By using the data collected through PeopleMetrics Voice of the Customer software, the company has been able to facilitate near-real-time responses and resolutions to customer requests and questions.
To ensure the involvement of the entire organization, a cross-functional team was assembled. It was charged with evaluating the Voice of the Customer data to develop effective solutions. Heading the team was Deb Kossak, Customer Solutions Director.
Becoming the Voice of the Customer
Using the customers' actual words is a powerful tool and the Voice of the Customer team found that it actually enhanced cooperation and encouraged discussion throughout the organization. Deb says, "Now it's not just one department saying, 'We think this is the customers' experience.' We now have both metrics and direct feedback from our customers that reinforce our knowledge about their experience in doing business with us."
PeopleMetrics feedback is being used to enhance the customer experience in all areas such as online shopping and ordering, delivery information, and problem resolution.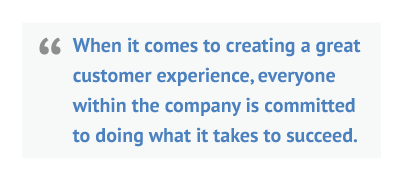 Without a doubt, American Hotel's culture is part of the reason the team has been so successful in driving change throughout the organization. A family-owned business, American Hotel has always taken pride in providing incomparable customer service and considers the development of deep relationship with customers, suppliers, and associates alike to be one of its core strengths. This is a company, after all, where the Chairman of the Board joins employees for lunch every day in the cafeteria. When it comes to creating a great customer experience, everyone within the company is committed to doing what it takes to succeed. This is a company that is serious about aligning associates around the customer and embedding customer feedback into the organization.
A Word of Advice
Deb speaks for the entire Voice of the Customer team at American Hotel when she says being a customer advocate has been both rewarding and challenging, but, "Don't shy away from the responsibility! It's really important. It's about everyone driving the change. Use the survey. Use your customers' voices to enhance their experience with your company. At the end of the day, you can say, 'I've really helped our customers and made an important contribution to our success.'"
~Janessa Lantz
As the premier supplier to the hospitality industry for 148 years, American Hotel Register Company provides incomparable service to customers throughout the world with a total solution approach that incorporates personalized procurement programs and services with global supply chain excellence. Learn more about how they've worked with PeopleMetrics by clicking the button below.
Posted on 03-12-2013