After months of brainstorms, meetings, late nights and deadlines, I am thrilled to announce that my first book, Listen or Die: 40 Lessons That Turn Customer Feedback Into Gold, will be available for purchase on Amazon starting Tuesday June 19th, 2018.
Listen or Die is a culmination of my 20+ years of CX experience boiled down into 40 quick lessons. These easy-to-use best practices provide CX leaders with the tools needed to build exemplary Voice of Customer programs that deliver ROI, turning customer feedback into gold.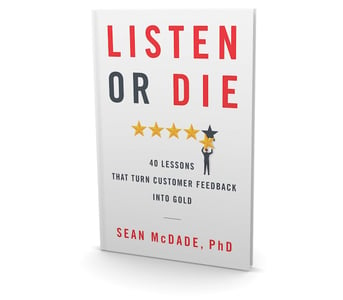 "Many companies collect customer feedback, but very few act on what they hear. Listen or Die provides some great advice for closing the gap."
— Bruce Temkin, Managing Partner, Temkin Group


A book for CX leaders
Listen or Die is written primarily for CX professionals in enterprise companies who are in charge of listening to customers. It is also relevant for anyone who is interested in CX or wants to learn more about how customer feedback can be used to drive business results.
Entrepreneurs looking for a crash course on how to best listen to customers and use that feedback to improve their business will benefit from the book as well.
"Moving VoC past data to a listening path that engages your organization and improves customer experiences is key. In this book, Sean McDade provides a game plan for how to embed this inside your organization."
— Jeanne Bliss, Best-selling Author of Would You Do That To Your Mother?
and Chief Customer Officer 2.0
This book will guide you no matter where you are in your VoC journey. If you plan to lead a new VoC program, you'll learn how to start it. If you've been collecting customer feedback for a year or so, you'll get strategies for ramping it up. If your VoC program is more mature, you'll find out how to make it ten times more effective.
My goal is for you to find answers to at least some of your burning questions, including those you didn't know to ask.
I can't wait to share this book with you!

More information:
Listen or Die is now available for purchase on Amazon.
Click here to download the book.

○ ○ ○
About the Author
Sean McDade founded PeopleMetrics in 2001 and he is the architect of the company's customer experience management (CEM) software platform. As CEO, he guides the company's vision and strategy. Sean has over 20 years of experience helping companies measure and improve the customer experience. Earlier in his career, he spent five years at the Gallup Organization, where he was the practice leader of their consulting division. His company offers CEM software with advanced machine learning solutions and hands-on analytical support to help companies make sense of their CX data. Sean holds a Ph.D. in Business Administration with a specialization in marketing science from Temple University in Philadelphia. He has published eight articles in peer-reviewed scholarly journals and has taught over 25 marketing classes. Sean was named a 40 under 40 award recipient of the Philadelphia region. He is an active Angel Investor, including investments in Tender Greens, CloudMine and Sidecar.
P.S. What did you think of this blog post?