If you have the great fortune to work or live around the bustling Logan Square neighborhood of Philadelphia, then it's likely that you have been offered an exuberant "have a great day" by the doorman working the morning shift at The Logan Hotel.
Every weekday morning for the past two years, I've gotten the "have a great day!" shout out along with an enthusiastic wave. And every morning I shout back, "you too, man" and wave back. It kind of makes my morning. I'm not alone. Virtually every person who comes within a block of The Logan knows what I am talking about.
I decided that it's simply too extraordinary for someone to have the spark, the love of people and the emotional tenacity to wish every person with whom he comes in contact each day a great day. I wanted to meet this person's acquaintance to understand more about what makes him tick. So, I introduced myself over coffee to ask about what drives and inspires him to be such a delightful human being.
His name is Anthony and he has been working at the Logan Hotel property since 1983 (yes, the last time the Sixers were NBA Champions) when it opened as the Four Seasons. When Sage Hospitality Group reopened the property under The Logan Hotel brand in 2015, they brought Anthony along.
You see, Anthony has a following. Not only hotel guests, but also the majority of the pedestrians that reside or work in the neighborhood. The Sage and Logan Hotel people knew him by name and reputation. Not only guests applauded his service-oriented, upbeat attitude, but also his fellow employees who were grateful to work alongside someone who exudes such positive energy.
This story is about much more than a hotel doorman saying "good morning" to people. This is about delivering a phenomenal customer experience through a thousand "hellos" and not discriminating about who is on the receiving end.
Anthony represents the Logan Hotel brand. And, regardless of who is on the property, he is the consummate professional. He strives to make sure that any person on his "home court" feels taken care of. And, sticking to the basketball metaphor, he doesn't take plays off. He is there with his game face on every minute of every day that he is on duty.
What is so unique in today's hospitality culture (hotels, restaurants) is that Anthony not only has an upbeat attitude, but he is also remarkably authentic. He is not scripted or robotic which has, unfortunately, become the new normal with how so many hospitality companies are run. Being a modest person, Anthony wanted to give credit elsewhere and told me that The Logan Hotel empowers not only him, but all the employees to be themselves.
Being genuine seems to be a value for both Anthony and the hotel. Before it became The Logan Hotel, Anthony was told to not talk to anyone beyond 10 feet from his person. Of course, Anthony is a good corporate citizen, so he followed the rules. But the Sage folks along with the management at The Logan unleashed the soulful, engaging and upbeat side of Anthony. Good on them for unshackling the man! They gave their guests (and the neighborhood) the gift that keeps giving. They must understand that you cannot prescribe a great customer experience. Compliance to rules cannot trump common sense if you want to create a phenomenal experience for your guests or neighbors. It starts with the hearts and minds of each employee. Then, when you add true empowerment to the mix, you have a solid foundation for great customer service.
Ultimately, Sage Hospitality, The Logan Hotel and Anthony all understand that a lucrative residual benefit of all this is that their hotel is amongst the very best Philly has to offer. How do I know that? Well, quantitatively, look at their review scores relative to other premium hotels. Qualitatively, a good number of visiting NBA, NHL and MLB teams stay at The Logan Hotel. Why? Because people with million-plus dollar salaries don't stay in shabby places. They stay at the best. But, I am willing to bet that famous players that frequent The Logan know Anthony... and know him by name. And the great thing is that Anthony treats these celebrity athletes just as he would some random software dude (like me), a street sweeper or even a homeless person.
So, Anthony, thank you for casting such a positive and inspiring light across our city block. Your caring attitude is infectious. And, to the leadership of Sage and The Logan, well done for allowing your team to be authentic, genuine and to offer a great experience through any rationale means (which includes wishing the entire neighborhood a great day).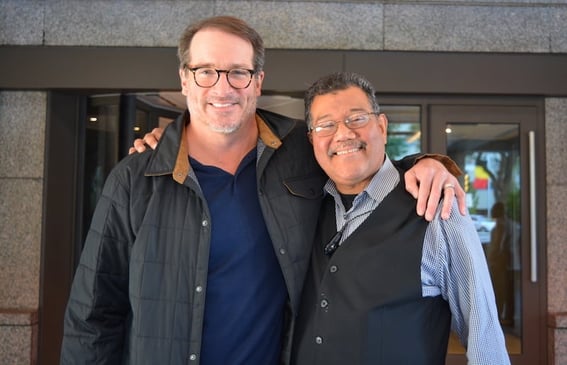 Madeline Good
Left to right: David Rode (author) with Anthony.
David Rode is an experienced CEO, President & Chief Operations Officer with extensive global experience and a demonstrated track record in the cloud & software-as-a-service industries. Skilled in Operations; Technical Leadership & Product Management; Negotiation; Sales; Customer Relationship Management (CRM); Go-to-market Strategies & Managed/Professional Services, David is a strong strategic and operational leader and holds an MBA in Finance from Wharton School, University of Pennsylvania.
P.S. What did you think of this blog post?