It's every CEO's nightmare: you've spent bundles of money and time on an advertising campaign, only to discover that your target audience isn't buying it—or at least isn't buying more of your product. Measuring the effectiveness of advertising is a Sisyphean task, and all too often companies see little tangible results from advertising efforts. Author James B. Twitchell goes so far as to say, "The simple fact is that you cannot put a meter on the relationship between increased advertising and increased sales. If you could, agencies would charge clients by how much they have increased sales, not by how much media space they have purchased."
Lack of trust among consumers is part of the challenge for advertisers. A 2009 Nielsen study shows a range of trust levels for different forms of advertising, from brand websites (which 70% of consumers trust) to text ads on mobile phones (which just 24% of consumers find trustworthy). Overall, 56% of consumers said they trust traditional advertising. Just over half isn't a very compelling rate. Yet the Nielsen report also contains one extremely high trust rating: 90% of consumers trust recommendations from people they know. A 2008 Forrester research study uncovered a similar pattern. This survey found that email from people you know was the most trusted form of information (77%), followed by consumer product ratings/reviews (60%). Consumers even trust complete strangers more than they trust advertisements.
So, if traditional outbound marketing via advertisement doesn't work, what should companies do to attract new business? In Marketing without Advertising, Michael Phillips and Salli Raspberry suggest that organizations can in fact see a higher ROI by promoting customers' personal recommendations. They also write that stable long-term growth is rooted in providing superior products and services, and relying on positive word of mouth to win new customers. Phillips and Raspberry point out that many successful companies, including Costco and San Francisco's Anchor Steam Brewing, have never advertised to the general public.
However, it's much easier to spout the wonders of what many are calling inbound marketing (positioning yourself to be found by potential customers) than it is to actually implement it. Here are a few steps you can take to influence the source your customers trust the most—i.e., their fellow consumers.
Understand your Customers. PeopleMetrics' research has shown that highly engaged customers recommend an organization twice as often as those who are ambivalent about the brand. Therefore, it's crucial to understand your customers so that you can keep them happy enough to recommend your service to others. And the best way to get to understand your customer? Listen to them. Implement a Voice of the Customer program, act on customer feedback surveys, and make customer feedback the driving force behind your decision making.
Capture and Capitalize on Positive Feedback. As we saw above, customer testimonials, even from complete strangers, are trusted more than traditional forms of advertising. From informational pamphlets to your website to social media outlets, there are plenty of places where customer testimonials can influence potential clients. Seek customer feedback systems (including customer experience management software) that allow you to capture and maximize positive feedback. PeopleMetrics' Voice of the Customer program instantly sends a Passionate Promoter alert when a customer raves about your services in their questionnaire responses, giving your managers the opportunity to identify what makes your Fully Engaged customers tick.
Locate and Emulate Your Brand Ambassadors. Every company has employees who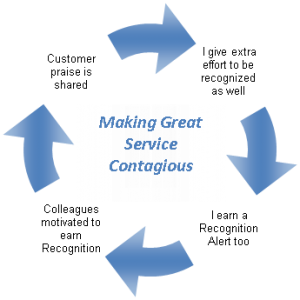 consistently provide amazing service—the kind of service that leaves customers raving to their friends and family. We call those employees Brand Ambassadors because their dedication creates loyal, returning customers. Many companies have no idea who these individuals are, but a well-designed Voice of the Customer solution will give your customers a chance to tell you and your managers a chance to learn from them. Recognizing employees who go above and beyond for your customers is the first step in making excellence contagious and curing your organization of average experiences.

Reward Customers for Recommendations. Finally, you may find that customers are more likely to make recommendations when they are rewarded for doing so. As an example, CorePower Yoga, one of the nation's most successful yoga chains, puts $5 in customers' accounts when they bring in a friend to sample a CorePower class. Our research has shown that 61% of customers who come to a brand through a recommendation are Engaged vs. 47% who come through other methods.

One final benefit of the inbound marketing approach is that customers who come to a company via a recommendation by a friend are more likely to stick around for the long haul. 37% of customers who come through a recommendation and experience a problem remain engaged with your brand vs. the 26% who came via other methods and experienced a problem. As Phillips and Raspberry point out, "customers who respond primarily to media ads usually don't return." To earn the revenue boosting recommendations of your customers it is imperative that every aspect of your company is focused on providing them with memorable experiences.

Sources:

Posted on 05-03-2011