Last week we wrote about a bank that has exceptional customer service in our post "How to Amaze Banking Customers: A Simple Story". This week we are going to focus on a story that happened right in @PeopleMetrics Twitter feed.
I had read an interesting article on Barclays Kenya's refocused customer experience efforts. So naturally, I pulled up Twitter and fired off a tweet at the bank, curious to know what their customer experience efforts were behind the scenes.
Love your customer focus, @Barclays_Kenya.
A few hours later, I got a reply from the bank, thanking me for the shout-out. And that's when things got hairy.
A customer jumped on it.
@PeopleMetrics what customer focus? @Barclays_Kenya have not responded to my tweet for days. I have banked with them since 2000.
An actively disengaged customer running wild on Twitter. This person is never going to refer Barclays Kenya to his friends and family and he may actively encourage his network to avoid the bank at all costs.
What Their Customer Service Team Did
I checked the bank's Twitter page and saw that they had responded to his request, only after he called them out on it. Unfortunately, his issue was complex, and he remained dissatisfied with the resolution being offered through the social media platform he had chosen to use.
The result was a customer that was so starved for attention that he reached out to a complete stranger to help get it fixed. When a customer is engaging with people outside of your company to get something done, alarm bells should be sounding. Why did this happen and what could the bank have done to avoid the situation?
How This Could Have Been Avoided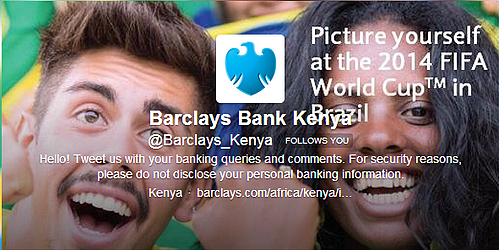 1. Establish Separate Social Media Accounts
The bank's Twitter bio positions itself as a channel for customer service satisfaction and responding to issues.
So naturally, this customer was unhappy when he didn't receive a response without his prompting. His tweet fell through the cracks. But why? Because the brand was sponsoring a sporting event and those managing the Twitter feed were busy promoting that event. They were posting photos, scores, and facts – all well done, but they were failing to listen and respond to their customers while the energy and focus was targeted at promotions and brand building.
@PeopleMetrics @Barclays_Kenya my issue is still unresolved. I guess it will take time for me to get Internet banking. I will wait. 6 days?
Best Practice: Consider setting up two separate social accounts – one for dedicated customer service and one for brand building.
2. Build and Follow a Consistent Process and Set of Standards
On Twitter, you can only send direct messages (a non-public message) to users that are following you.
This is especially useful when someone needs to give out some secure information, such as a phone number or an account number.
But, you can only communicate privately if you are both following each other.
The customer was following the bank's Twitter – but they weren't following him back. This failure to reciprocate meant he could not send information directly to the bank. He also directly called out this issue on Twitter.
@PeopleMetrics @Barclays_Kenya it took 6 days and your tweet. I can't even DM them because they are not following their customers. Focus?
Best Practice: Ensure those managing your Twitter account know to follow customers immediately so that they can engage with them privately and thus receive the information they need to solve their problem more quickly.
3. Turnarounds are Possible Assuming You Own the Recovery
Five days later, I asked him if his problem had been resolved. He said no – and that they hadn't even called him yet, even though he had sent them a direct message with his phone number.
@PeopleMetrics not yet. @Barclays_Kenya have not yet called despite having DM'd my number. Customer focus!
For shame!
After all of this hullabaloo on their social media source, you would think the squeaky wheel would have gotten the oil. But no, they still haven't fixed his problem.
Best Practice: Prioritize following up with customers who are shouting in the social world. Jump on it quick, finish the job, and check in with them to ensure their satisfaction. When issues are complex, talk to your customers – a conversation with a real human can go a long way to making that customer feel cared for.
Social Media Feedback Management Is Essential
We all have stories where engaging with a brand on social media has helped to turn a negative experience into a positive, memorable event – a story we tell with pride to others.
But success for these brands depends on much more than simply setting up their Twitter handle and inviting people to "tweet us." The moral of the story is that a social channel without a strategy is worse than no social channel at all. Define the purpose, set your response standards, train your customer service reps and establish metrics before you open yourself up to the masses.
-Xand Griffin
Posted on 03-21-2014