The only constant in this world is change, and the retail world is no exception. Consumers are moving away from the excessive buying of the 1990s, toward a simpler, yet more fulfilling life. They're buying less, and focusing more on the purchasing experience. Businesses will need to change the way they think about the customer experience in order to survive this shift. That's one message of a fascinating piece in last Saturday's New York Times, titled "But Will It Make You Happy?" In it, writer Stephanie Rosenbloom reviews research from psychologists and market strategists showing that many consumers are moving from "conspicuous consumption—which is 'buying without regard'—to calculated consumption." Just how are consumers calculating what to buy? By evaluating their emotional experience during and after the purchasing process.
This new approach to shopping is an upshot of the harsh economic climate. Sky-high debts and dropping salaries have lead many Americans to save more and spend less. The "back-to-basics" movement has many people taking staycations, spending more time with family and friends, and generally looking for opportunities to create happy memories, rather than piling up more stuff. Fewer people are concerned with status and luxury, and more are focused on family and home. And research in Positive Psychology, among other fields, shows that this approach may indeed bring more long-term happiness.
Ms. Rosenbloom's article describes many consumer-based paths to happiness; one is shopping as a social experience. When people first began shopping from stall to stall in the Middle Ages, social interactions were a key benefit. The advent of big box stores and online shopping removed these social benefits. And now, consumers are hungry for a return to emotionally-enriching shopping experiences. As Ms. Rosenbloom puts it, the new paradigm is all about "emotional efficiency—how to reap the most happiness for your dollar." Wendy Liebmann, Chief Executive of WSL Strategic Retail, sees potential in this new paradigm:
"I think there's a real opportunity in retail to be able to romance the experience again. Retailers are going to have to work very hard to create that emotional feeling…And it can't just be 'Here's another thing to buy.' It has to have a real sense of experience to it."
In this brave new world of selective buying, consumer satisfaction is an outdated metric, since it doesn't incorporate the emotional aspect of the purchasing experience. Customer Engagement is the best way to evaluate whether consumers are finding emotional satisfaction in your product or service. Through our Customer Experience Management solution, your organization can establish a baseline level of Customer Engagement. Then, through ongoing brief check-in studies and Enterprise Feedback Management tools, we can help your company enrich the customer experience, boost Customer Engagement, and meet the new consumer paradigm head-on.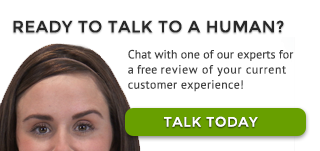 Posted on 08-10-2010