If there is one master customer-centric selling rule, I think it would be this: solve your customers' problems. Every change, every action, every improvement should have the end goal of solving a customer problem. So how does this apply to the Pharma industry?
Pharma's Past
Pharmaceutical companies served what seemed to be a fairly straightforward purpose: providing customers with information and access to newer and better drugs. And this worked for a long time. However, over the past few years, it is estimated that the Pharmaceutical industry has experienced a 30% industry-wide reduction in sales force numbers. What worked in the past isn't cutting it anymore.
Between increasing government regulation, a decreasing amount of physician face-time, and a barrage of multi-million dollar lawsuits, Pharma companies cannot survive, and thus continue to help their customers, without shifting from being product-centric to patient-centric.
Pharma's Present
Pharma's customer base is made of up people who have one pressing problem: the patient. Their jobs are exhausting and involve long hours, high risk, changing rules and regulations, and the constant stress of carrying patients' health and lives in their hands. Pharma's opportunity then lies in their ability to stop selling to, and start partnering with, their customers to solve their biggest problem: how to better serve the patient.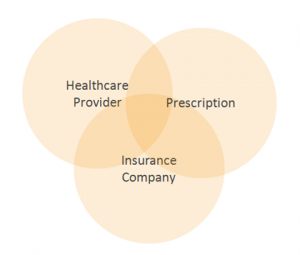 An oversimplified view of the patient experience looks something like the figure above. It is a combination of a patient's interactions with their healthcare provider, their insurance company, and the therapy itself. The opportunity for Pharma lies in the overlap of all of these interactions. If Pharma is able to break down these walls and make it easier to prescribe, easier to gain insurance reimbursements, and easier for patients to access and take the treatment they need, then they have solved their customers' most pressing problem.
Pharma's Future
Over the past few months, we have met with people involved in Healthcare Compliance and Legal, Sales Force Effectiveness, Learning & Development, Incentive Compensation, and Access Services across a variety of different Pharmaceutical companies. The conversations vary based on the groups' respective patient touch points. Some groups are interested in improving patient and customer education, some are interested in building better relationships between sales reps and physicians, and some are interested in improving access processes. But all share the common goal of improving the patient experience by shifting from a product-centric to a customer-centric approach.
This shift in focus is transforming the Pharma industry. Instead of sales reps fighting the losing battle of gaining physician face-time, entire companies will align around improving the service delivered to patients. For example, we have heard talk of concierge services, a completely customer-centric approach that focuses on delivering customized solutions to the patient – the right product, at the right time, through the right channel.
Focusing solely on the product – providing awareness and information – isn't enough anymore. Customized solutions are what Pharma customers need now. For Pharma companies to survive, and thrive, they need to bend to the medical professionals who are done with the sales pitch and ready for the experience of working with a trusted partner.

~Janessa Lantz
Posted on 01-05-2012