The master rule to customer-centricity is this: solve your customers' problems. Every change, every action, every improvement your company makes should have the end goal of solving a customer problem. So how does this apply to the healthcare and pharmaceutical industries?

In The Beginning
Healthcare and pharmaceutical companies of yesterday served what seemed to be a fairly straightforward purpose: provide their customers (physicians) with access to and information surrounding newer and better drugs. This worked for a long time, but in recent years, the need for digital transformation has increased pressure on traditional industry players to deliver customer-centric engagement models.
This market shift, combined with increasing government regulation, decreasing amounts of face-time with physicians, and a barrage of multi-million dollar lawsuits, has led forward-looking healthcare and pharmaceutical companies to begin shifting their focus away from products and more towards their ultimate customer – the patient.

Today
The pharmaceutical industry serves a customer base made up of people with one common, pressing concern - the patient. Physicians' jobs are exhausting - involving long hours, high risk, changing rules and regulations, and the constant stress of carrying patients' health and lives in their hands. The opportunity for pharmaceutical companies, then, lies in embracing a bit of a paradigm shift: stop selling to physicians, and instead, partner with them to address their primary concern: how to better serve the patient.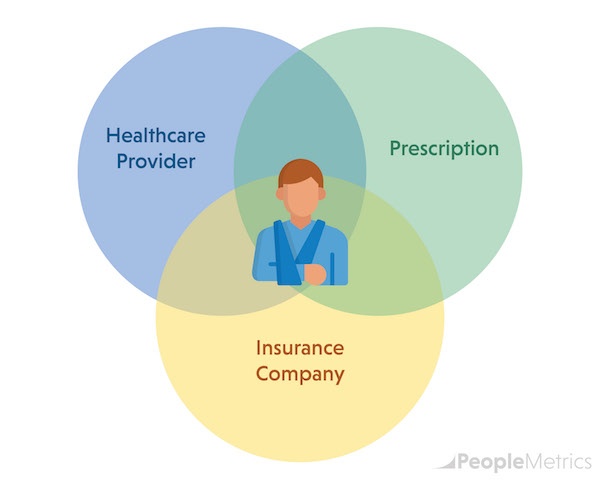 An oversimplified view of the patient experience looks something like the diagram above. It is a combination of the patient's interactions with their healthcare provider, their insurance company, and the prescription itself. The opportunity for pharmaceutical companies to improve the patient experience lies at the overlap of these three experiences. If a pharmaceutical company is able to break down these walls and provide world-class patient services, they can make it easier for healthcare providers to create a great experience for their patients.

The Future
For insight into where we stand today, we've connected with people involved in Healthcare Compliance and Legal, Sales Force Effectiveness, Learning & Development, Incentive Compensation and Patient Services across a variety of healthcare and pharmaceutical companies. The conversations vary, of course, based on each groups' respective patient touch points. Some groups are interested in improving patient education, some are interested in building better relationships between sales reps and physicians, and some are interested in improving better services for patients. But all share a common goal - to improve the patient experience by shifting from a product-centric to a patient-centric approach.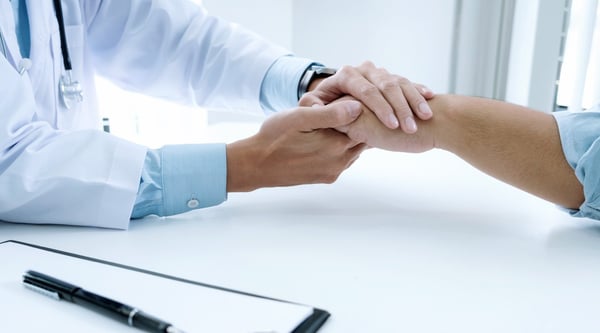 This shift in focus is transforming the pharmaceutical industry as we know it. Instead of sales reps fighting to gain face-time with physicians (and failing), entire companies are aligning around improving the service delivered to patients. Companies like Merck, Novartis, and Bristol-Myers Squibb are building their Patient Services departments with concierge-like services, embracing a completely patient-centric approach focused on delivering customized solutions - the right products and services, at the right time, through the right channels.

Patient Feedback
Market forces are pushing companies to embrace and incorporate patient engagement technologies to improve data transparency and create more relevant products. But how can patient services teams utilize this vast amount of data to demonstrate value and drive positive outcomes?
Companies can leverage internal processes they are already familiar with by surveying patients at each stage of the treatment journey. Gathering patients' feedback at these touchpoints can help patient services teams understand in real-time which services are delivering value to patients and which services are not. Over time, these types of insights will help stakeholders to optimize service offerings to deliver a consistent and enjoyable patient experience, which in turn will lead to more sustainable and profitable ongoing customer relationships.
Focusing solely on the product - merely providing awareness and information - is not enough for patients anymore. Patients don't only need customized solutions - they're demanding them. For pharmaceutical companies to survive, and thrive, they need to bend to serve their customers, the medical professionals who are done with the sales pitch and ready to collaborate with a trusted partner.
Madeline Good is the Manager of Marketing Operations and Creative Services at PeopleMetrics, with a background in media production and project management in the entertainment, media & tech industries. Outside of work, Madeline enjoys playing squash, trying new beers, singing in a gospel choir, and spending time with friends and family.
P.S. What did you think of this blog post?