PeopleMetrics LIVE! | Customer Experience Episode#17
The world is changing at a rapid pace, which as a result has transformed the customer experience expectations. Business-as-usual just simply won't cut it if you want your CX program to succeed. There are 5 top trends that will impact customer experience professionals in 2022.
In this session, our experts Sean McDade & Courtney Prunchak will discuss these top 5 CX Trends that you will need to know in order to improve the overall customer experience, increase your NPS, reduce churn, and more!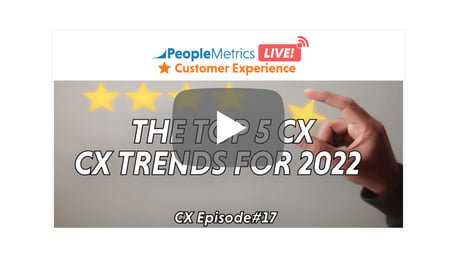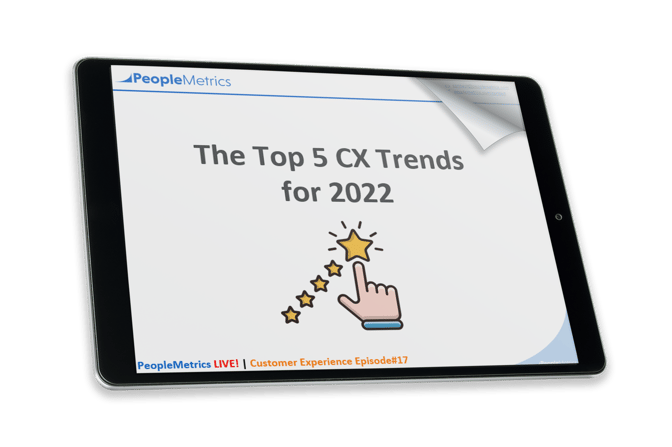 ○ ○ ○
PeopleMetrics LIVE! is a free online session where Experience Measurement experts from our team share their knowledge on Customer Experience Feedback Programs, Pharma Patient Support Services, and more. At the end of each session, we open the conversation up to the audience to answer all YOUR questions. Tune in for our Tuesday afternoon specials for some short, casual conversations lead by experts in the CX industry.
○ ○ ○
Our CX solutions are designed to deliver a consistent experience every time... your dedicated account manager brings 20+ years of CX expertise into your program, with unlimited users to give everyone access to CX insights.
Discover our award-winning Customer Experience (CX) blog
Read our CEO's book, Listen or Die: 40 Lessons That Turn Customer Feedback Into Gold
○ ○ ○
FOLLOW US ON SOCIAL!
YouTube | LinkedIn | Twitter | Instagram | Facebook
○ ○ ○
customer experience measurement, b2b voc, customer engagement nps, voc market research, b2b customer voice, b2b voice of customer program, why customer centricity matters, experience management company, experience management system, cx, cx strategy, 2022 cx plan, 2022 customer experience strategies, cx culture, customer experience industry, cxm, market research, voice of the customer, cx program, cx program design, cx strategy framework, customer retention, client retention, customer needs, peoplemetrics, peoplemetricslive