Hi everybody! Today I'm really excited to release the first video in a new series called #CXSecrets, where I'll be talking about exclusive bonus materials from a book I'm working on titled Listen or Die: 40 Lessons That Turn Customer Feedback Into Gold.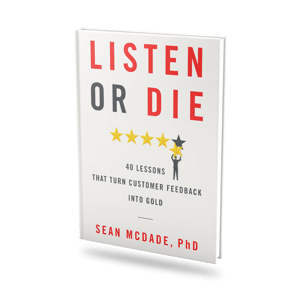 Why I'm writing Listen or Die

I was inspired to write this book because of another great book that most of you have probably heard of - Outside In: The Power of Putting Customers at the Center of Your Business by Forrester Research: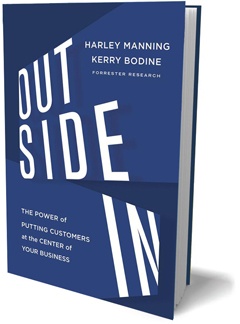 Purchase Outside In on Amazon
Outside In is a great book on the customer experience, but one of the things I noticed while reading it that is there is only one chapter on the measurement of the customer experience.
Measuring customer experience is critical to we do here at PeopleMetrics. We help companies figure out what customers are saying and then take action on that feedback. That being said, I'm super excited to dedicate a book solely to the measurement of the customer experience.

The structure
The book will be written in a really accessible lesson format, with 40 quick lessons about how to create a super effective Voice of the Customer program.
The audience
The book is geared towards folks who are running Voice of the Customer programs for companies with titles like VP of Customer Experience, Director of Customer Experience, etc., but anyone who is interested in learning more about the principles of customer experience (CX) and how to run an effective Voice of the Customer program will get a lot out of the book.
What #CXSecrets is all about
There is a lot of material that might not make it into the book that I really want to share, so we created #CXSecrets as a sort of "bonus material" video series. When the book is out, we'll also be doing a video about each one of the 40 lessons.


CX Secrets includes exclusive bonus material from Sean's book. Download the video transcript here.
Click the link below for the next edition of #CXSecrets:


Sean McDade founded PeopleMetrics in 2001 and he is the architect of the company's customer experience management (CEM) software platform. As CEO, he guides the company's vision and strategy. Sean has over 20 years of experience helping companies measure and improve the customer experience. Earlier in his career, he spent five years at the Gallup Organization, where he was the practice leader of their consulting division. His company offers CEM software with advanced machine learning solutions and hands-on analytical support to help companies make sense of their CX data. Sean holds a Ph.D. in Business Administration with a specialization in marketing science from Temple University in Philadelphia. He has published eight articles in peer-reviewed scholarly journals and has taught over 25 marketing classes. Sean was named a 40 under 40 award recipient of the Philadelphia region. He is an active Angel Investor, including investments in Tender Greens, CloudMine and Sidecar.
P.S. What did you think of this blog post?