Tax season is finally over, and many accounting and tax services providers are coming back online and starting to think of how they can improve in 2019.
Maybe software needs updating, staff needs better training, or processes need to be streamlined. As the old saying goes, hindsight is 20/20.
Before trying to decipher which improvement initiative will yield the highest impact, accounting and tax service providers can skip the headache entirely by simply asking clients what they can do better next year.
As the direct beneficiaries of a firm's process improvements, clients will tell accounting and tax services providers where they can improve, what the impact will be, and how likely they are to either stay or leave based on their experience in 2018.
In fact, our study shows that 40% of clients on the fence about their current provider plan to leave for a competitor in 2019.
Check out the infographic for the rest of the results: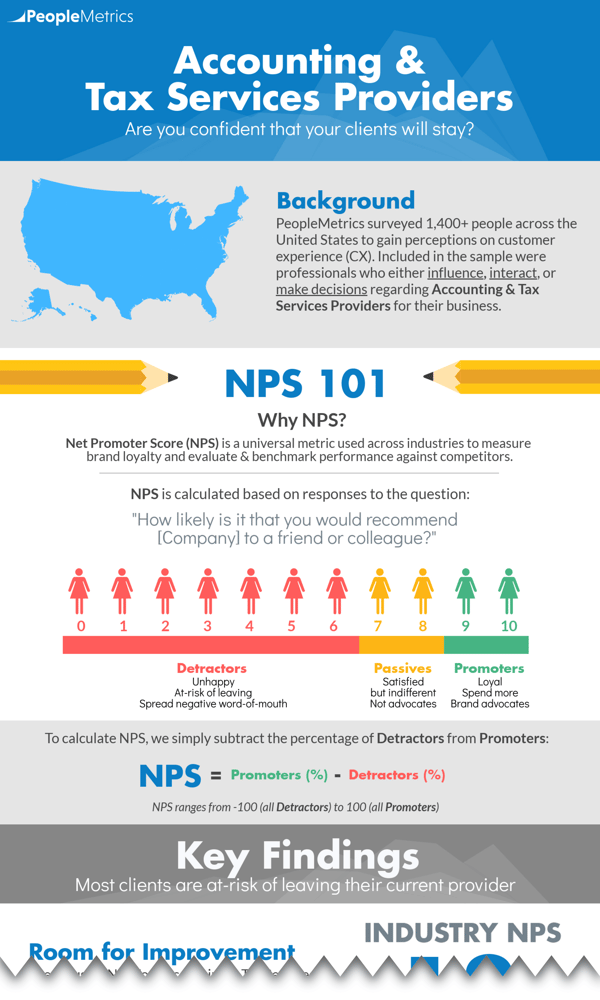 PeopleMetrics provides CEM software and CX expertise to help companies measure, act on and improve the customer experience. Our platform ingests customer feedback from any channel, including surveys and social reviews. We help companies make sense of their CX data through hands-on analytical support and advanced machine learning solutions.

P.S. What did you think of this blog post?