The following is an excerpt from Listen Or Die by Sean McDade, PhD.
Customer service (CS) is critical for delivering a great customer experience (CX). All too often, these terms are used interchangeably, but they are not synonymous—CS is not the same as CX.
Customer service is part of the overall customer experience, not the entire customer experience. It is vital to understand the difference between CX and CS as you implement Voice of the Customer (VoC).
CX vs. CS
Customer experience is the sum of all experiences, interactions, or touchpoints a customer has with a company.
Customer service is employees at a company helping solve a customer's need in some way, usually (but not always) around a problem or a question.
CX is holistic and covers a wide number of touchpoints. Some of them are CS oriented, some are not. A complete VoC program includes all touchpoints, including those that are product or digitally oriented.
Understand the difference with touchpoint mapping
At PeopleMetrics, we use an exercise called touchpoint mapping to help our clients distinguish between CX and CS. When mapping out key touchpoints, we note which ones are CS oriented and which ones are not, but are still an important part of the customer experience.
For example, let's say a customer is getting broadband internet services installed at her home. Key CX touchpoints might include:

Visiting a company's website to check out pricing (not CS)


Calling the company's 800 number to ask questions (CS)


Going back to the website to purchase (not CS)


Having a technician come to her home for installation (CS)


Experiencing the service by watching videos on YouTube, downloading music, etc. (not CS)


Calling billing to ask questions about her first bill (CS)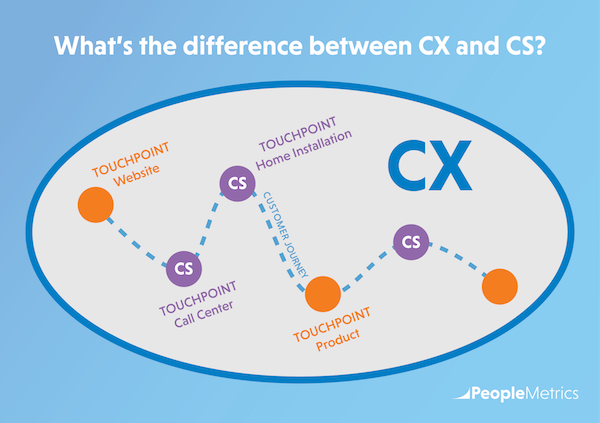 If you run through this valuable touchpoint mapping exercise at your organization, I bet you will find that many touchpoints that are key to the overall customer experience include more than just customer service.
Be sure to distinguish between customer service and customer experience in your every day communication so that your team and broader organization understand the nuances and view CX holistically.
Click here to download the book.

Sean McDade, PhD is the author of Listen or Die: 40 Lessons That Turn Customer Feedback Into Gold. He founded PeopleMetrics in 2001 and is the architect of the company's customer experience management (CEM) software platform. As CEO, he guides the company's vision and strategy. Sean has over 20 years of experience helping companies measure and improve the customer experience. Earlier in his career, he spent five years at the Gallup Organization, where he was the practice leader of their consulting division. His company offers CEM software with advanced machine learning solutions and hands-on analytical support to help companies make sense of their CX data. Sean holds a Ph.D. in Business Administration with a specialization in marketing science from Temple University in Philadelphia. He has published eight articles in peer-reviewed scholarly journals and has taught over 25 marketing classes. Sean was named a 40 under 40 award recipient of the Philadelphia region. He is an active Angel Investor, including investments in Tender Greens, CloudMine and Sidecar.
P.S. What did you think of this blog post?