Today PeopleMetrics announced survey results of 1008 full-time employees across the United States on how their employer is handling the COVID-19 pandemic.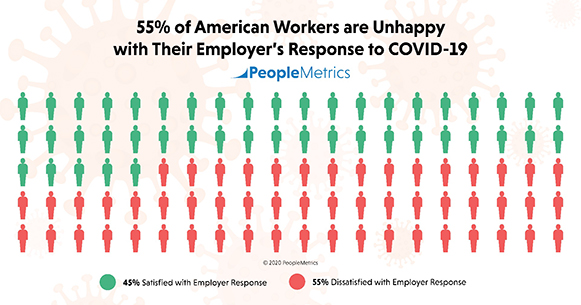 PeopleMetrics' new study found that 55% of American workers are unhappy with their employer's response to the COVID-19 pandemic.

S

tudy highlights include:
Less than half (45%) of employees are satisfied with their employer's response to COVID-19.


Generation Z is particularly unhappy, with only 36% reporting to be satisfied, while Generation X is the only generation with over half (51%) reporting to be satisfied.


Technology industry workers are most satisfied (65%), while Transportation industry workers are least satisfied (29%).



20% of employees are required to work on site, while 42% are required to work from home.

Employers in all industries are facing unprecedented challenges from the COVID-19 virus. "Creating a great employee experience is always important, but in today's world, every company's top priority should be taking care of their people during disruptions from COVID-19," said Sean McDade, PhD, Founder & CEO of PeopleMetrics. "As indicated in our study, companies have work to do before employees feel like they are fully supported during these uncertain times."
Survey respondents offered a complete view of the United States with 21% from the West, 33% from the South, 23% from the Midwest and 23% from the Northeast.
Responses also reflect differences in view depending on company size, with 42% of respondents coming from companies with less than 500 employees, and 58% coming from larger companies. Margin of error is +/- 3.087% at a 95% confidence level.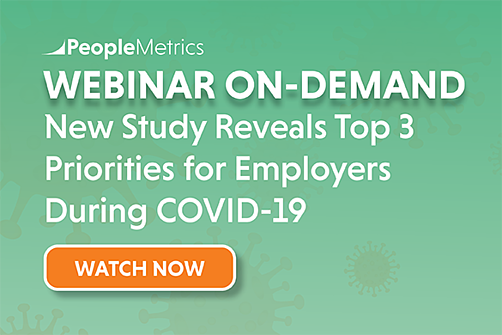 Webinar On-Demand on study results:
Sean McDade, PhD, Founder & CEO of PeopleMetrics, reveals the full findings of the study in a

webinar

- available on-demand now.
In the webinar, Dr. McDade goes through the study's findings in detail, and provides recommendations for what companies can do to effectively measure and manage employee experience during the COVID-19 pandemic and beyond.
---
P.S. - Whenever you're ready... here are a couple things you can do to learn more about measuring and managing employee experience:
1. Check out PeopleMetrics Employee Pulse™. Gauge employee perceptions about their experience with periodic surveys at a regular cadence.

2. Check out PeopleMetrics Employee Conversations™. Conduct online focus groups across multiple time zones and geographies to understand employee perceptions.