Designing and operationalizing a Patient Support Services program is complicated – there are so many decisions to make on which services to offer, how to operationalize (in-house, HUB, specialty pharmacy, or other third party), the best way to ensure compliance and retain oversight, etc.
A couple of weeks ago, PeopleMetrics had the opportunity to attend CBI's Patient Support Services Congress in Philadelphia.
The conference brought together 100+ experts across Patient Services, Legal, Compliance and Government, and really drove home the need for Patient Support Services teams to work closely with their counterparts in Legal & Compliance as the demand for these types of services increases.
The healthcare marketplace is rapidly changing and antiquated policies are struggling to catch up. Connecting directly with patients is becoming increasingly important, and Pharma Patient Support Services teams are facing unique challenges:
How to navigate legal grey areas within Patient Support Services?

Who "owns" Patient Support Services within Pharma?

Can the impact of Patient Support Services be measured?


---
How to navigate legal grey areas within Patient Support Services?
The decision of which Patient Support Services to offer and what model to choose to offer them (in-house, HUB, specialty pharmacy, hybrid, etc.) is based on many factors, including therapeutic area, awareness of the condition, complexity of drug administration, cost of treatment, lifecycle of drug, competition in the marketplace, etc.
Based on the types of services offered and the company's risk tolerance, internal Legal & Compliance teams institute programs to ensure controls are in place to mitigate compliance risks - and are expected to proactively investigate any questionable activity.
The government recognizes that in cases where the laws are vague or differ across state lines, unintentional legal oversights might occur. In situations like this, the government will ask the Pharma company "What did you know?" "When did you find out?" and "What did you do about it?"
For example, if a Pharma company contracts with multiple third parties (HUBs, specialty pharmacies, etc.) and one partner has a substantially higher rate of securing approvals on claims than the other(s), the expectation is that the Pharma company will investigate why this is so, and do due diligence to confirm that inappropriate business practices are not being employed.
If a Pharma company can't prove proactive due diligence in a legal grey area, that's where they can start running into trouble with the government.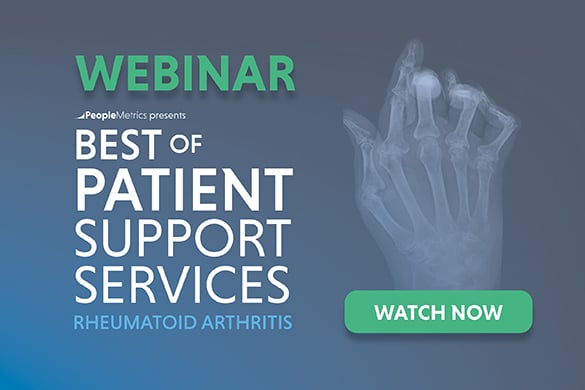 Who "owns" Patient Support Services within Pharma?
The strategy, design, operationalization and oversight of Patient Support Services does not necessarily reside with one central entity or "owner" internally within a Pharma company.
Some Patient Support Services models consist of one person managing single or multiple outsourced third party service providers (i.e. HUBs or specialty pharmacies). Small companies with one or two drugs often have this kind of model.
Mid-sized and large companies with multiple drugs in different therapeutic areas tend to offer a hybrid model where some services are outsourced and others are managed internally ⁠— often by disparate teams.
For example, the call center might be housed within Medical Affairs, Co-Pay Assistance within Market Access, Nurse Educator Programs within Marketing, Digital Services (patient portal, app, e-diary) within Digital Experience teams, etc.
With so many "owners" of patient experience across departments, this means that a lot of different services, models, strategies and approaches need to come together to offer consistent and continuous support to patients.
I can't help but draw parallels between patient experience (PX) and customer experience (CX).
In CX, customer-facing departments craft their own CX strategy, but forward-looking organizations institute overarching CX measurement programs across all departments and touchpoints to ensure oversight and confirm that a consistent, efficient and seamless customer experience is delivered to customers.
Patient Experience is headed in the same direction.


Can the impact of Patient Support Services be measured?
Configuring Patient Support Services programs can be complicated, but measuring their overall impact doesn't need to be.
Start small by gathering post-interaction feedback from patients at one touchpoint – be that the call center, a case manager interaction, nurse navigator visit or portal to get a pulse on patient perceptions. Early measurement programs can track performance against a core set of KPI's and then grow slowly to include all touchpoints and comparisons against benchmarks.


---

Conclusion
Patient Support Services are a significant investment for Pharma companies whether they're housed internally by various departments or outsourced via HUBs or specialty pharmacies.
Patients don't care where the programs are housed or how they are offered – they are just looking for their needs to be met ...and they expect to be heard.
Given that connecting with patients directly is relatively new for many pharma companies, it is particularly important to ensure that the voice of the patient is continually being heard to improve the design and operationalization of patient support programs.
Looking for ways to measure patient experience?
Contact PeopleMetrics:
About the Author
Reshma Bennur is the Vice President of Customer Experience at PeopleMetrics. She leads the organization's patient experience practice and serves as the strategic lead for the design and deployment of Patient Experience Measurement programs in the Pharma and Healthcare space.