Customer satisfaction surveys have traditionally focused on collecting aggregate data. In market research thinking this approach makes sense – it's statistically accurate, high-level, and shows trending data – all things market research likes. But in the age of the customer this "open-loop" system isn't working. Customers expect that if they take the time to provide personal feedback then the company should take the time to provide personal follow-up.
A closed-loop customer feedback program gives companies the tools they need to take this personal follow-up and "close the loop" on each piece of customer feedback. It works like this: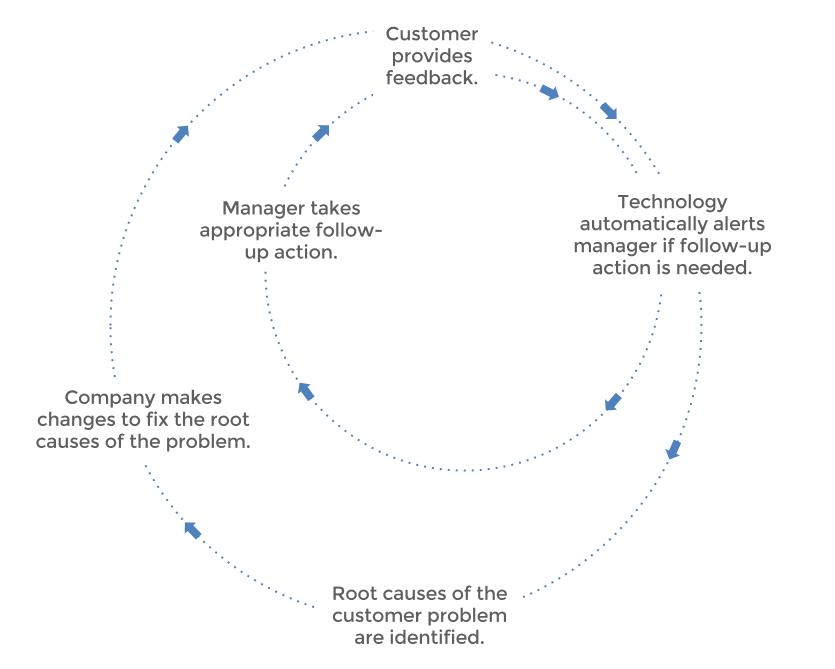 Ultimately, closing the loop can lead to increased customer retention and happier customers. Here are 5 characteristics of a closed-loop customer feedback program:
1. Customer Identification
In order to follow-up in a personal way on customer feedback, a manager needs to know who the customer is and how to contact them. Removing anonymity gives managers the information they need to provide customers with the kind of additional follow-up they want.
2. Action-Oriented Design
The survey used in a closed-loop program will focus on only asking questions that can be acted on. A traditional satisfaction survey will aim to gather measurements for things the company cares about (e.g., staff friendliness, cleanliness, or check-out speed), but a closed-loop customer feedback program will lean toward more open-ended questions that delve into things the customer cares about.
3. Automation
In order to be effective, a closed-loop system must be automated to allow for prompt follow-up. Some feedback programs will give managers the information they need to take action, but only days or weeks later. Automating the process of collecting feedback and alerting managers when action is needed is a key characteristic of closed-loop systems and a critical feature when dealing with unhappy customers.
4. Case Management
Asking managers to take action on real-time customer feedback adds new work to their days. A closed-loop feedback program will provide tools to help managers delegate follow-up actions and track the progress of open cases. Case management tools make it easy to create transparency around the customer experience and ensure that no piece of feedback gets lost or overlooked.
5. Customer Experience Mindset
Traditional customer surveys will stay in marketing or happen haphazardly throughout the organization, but a closed-loop program is aimed at long-term improvements. Because of this customer-centric mindset, a closed-loop program will seek to ultimately solve the internal issues that are causing customer problems in the first place. This isn't about tracking; it's about transformation.
A closed-loop customer feedback program is a powerful upgrade from traditional customer satisfaction surveys. Learn more about the steps from kick-off to action by downloading our Closed-Loop Voice of the Customer Process Map (below) or scroll down to the button at the bottom of the page to talk to us.
~Janessa Lantz
Click the image to download our process!
Want to learn more? Check out these related posts!
PeopleMetrics is focused on helping clients create customer-centric cultures. Want to learn more about what we do? Click the button below to schedule time to chat with us. We can talk about your current customer feedback management, customer retention, or anything else that comes to mind!
Posted on 11-28-2012