Customer satisfaction has always been a make-or-break consideration for businesses.

Learning from your customers' experiences gives you direct insight into what you're doing well and where you can improve to drive more revenue, acquisition, and retention.

But your business should go beyond simply asking customers to give you a thumbs up or thumbs down after an interaction has already occurred. There's more you can do and learn to make targeted, direct improvements that lead to better business results over time.

Dedicated software can give you the 360-degree views you need to understand your customers' experiences, their satisfaction with those experiences, and how you can improve to more effectively secure and retain their business.
Understanding the Essentials
What is customer satisfaction software?
Customer satisfaction software is any tool or platform that a business uses to measure its customers' satisfaction with the products, services, or experiences it offers.

It can come in a number of forms, from comprehensive customer experience (CX) platforms to simple online survey tools. However, the core purpose of any customer satisfaction software is to collect, track, organize, and store customer feedback.

This feedback can be sourced at any point in time during the customer journey, but it's most often collected after the final transaction or experience has occurred to gauge the customer's overall satisfaction. This information is then put to work to help you follow up with individuals and identify big-picture issues that lead to dissatisfaction.
What is customer experience software?
Customer experience (CX) software can collect and track customer feedback at every stage of the customer journey through targeted surveys and outreach. CX is a broader concept that includes customer satisfaction.

These tools go beyond customer satisfaction software to give you a complete view of your interactions with customers, which is more strategically valuable than collecting a post-transaction satisfaction metric alone.

Think of it this way — All of the touchpoints and moments of truth in your customer journeys impact their ultimate satisfaction or dissatisfaction with the experience. Understanding these key interactions and finer details makes it possible to identify and implement more targeted and impactful improvements over time.

With today's digital-first environment and changing consumer expectations, there are more interactions than ever to study and improve. This means that robust CX software is often the most valuable choice for businesses that want to source and track customer feedback.
What are the benefits of using customer satisfaction or customer experience software?
Your business needs a way to deliver and facilitate satisfaction surveys or questionnaires to customers. Without dedicated software that prompts customers for feedback at the right times, you'd instead have to rely on a manual process in-person or via email. While this might work for very small businesses, it's inefficient and cannot scale as your business grows.

Customer experience and satisfaction software eliminates the need to manually collect feedback. This saves you time, makes the process truly scalable, and allows you to collect more data than would otherwise be possible. Over time, this streamlined and more comprehensive view of your customers makes it easier to understand your customer journeys and pain points.

Plus, individualized feedback allows you to quickly step in to correct any issues that customers have experienced and that have affected their perception of your business.

The right technology will also include a range of features that further simplify the process of managing and analyzing your customer feedback data, meaning you'll need to spend less time studying your feedback data and can instead focus on putting those insights into action. You'll also have the foundation you need to launch impactful customer listening programs like customer advisory boards or panels.
With today's digital-first environment and changing consumer expectations, there are more interactions than ever to study and improve. This means that robust CX software is often the most valuable choice for businesses that want to source and track customer feedback.
Features to Look For in Customer Satisfaction Software
As you research customer satisfaction tools, there are a few essentials to keep in mind:
Industry-specific features


Customer experiences and journeys naturally look different across different sectors. For example, pharmaceutical companies have very unique customer experience needs that aren't well supported by generic software. Having specialized tools will make it easier to start driving real value quickly without needing to invest in multiple piecemeal solutions.

Real-time notifications

One of the core benefits of using dedicated satisfaction software is that it can automatically flag certain types of feedback as they're collected. When a customer has a negative experience or encounter other issues that you can help with, your platform should be able to notify the correct team members and give them the appropriate context to get in touch with the customer.

CRM and other integrations


Effective customer experience management is built on your data, so make sure your software generates and reports it in ways that are truly helpful and don't require unnecessary imports/exports. Integrating your various platforms is a must for generating valuable insights and scaling up your operations over time.

Robust reporting tools

Many stakeholders and team members will need to use your CX data and recommendations to roll out improvements, so intuitive and customizable reporting is a must. Complete CX platforms will offer configurable dashboards that show you exactly what you need in a single glance.

Full support


Any new software can be complicated to pick up and start using, so make sure your CX software vendor offers comprehensive, personal support. This is not only important during the initial implementation but also on an ongoing basis as you uncover new needs and challenges.

Additional services

Customer satisfaction software vendors can also offer additional services to help you further streamline and improve your processes. Data screening services and advertising consultation are two examples that can prove useful for practically any type of business looking to make the most of large volumes of data.
Again, we recommend looking for platforms that offer broad support for the entire customer experience rather than just satisfaction feedback collection alone. CX software will ultimately offer more robust and specialized features than general satisfaction survey tools.

As you weigh different features, keep in mind that the right solution should empower you to quickly address customer issues in real-time and make big-picture improvements across the entire customer journey. Both elements are key for proactively driving retention, acquisition, and net promoter results.
How PeopleMetrics Stands Out
PeopleMetrics is a leading customer experience platform that allows your business to collect, track, and study feedback from all points in your customer journeys. Our platform includes all of the features listed above and allows you to drive results on two levels:
Improving your overall customer journeys and providing better service across the board
Closely managing the experiences of your most impactful and valuable customers to ensure their satisfaction and repeat business
In the short term, PeopleMetrics makes it easy to give your most important customers a white-glove experience. You can also immediately flag any customer's negative experiences for direct outreach from your team. Both benefits help you grow your net promoter scores and customer retention metrics without sacrificing all of your team's time and attention to inefficient, unscalable processes.
And over the long run, our tools, customizable surveys, intuitive reporting, and text analytics let you actively generate from your incoming customer feedback. Diagnose root CX issues and make concrete, highly targeted operational changes. Map out your customer journeys and dig deep into the pain points you uncover.

Whatever you need to do, PeopleMetrics gives you the data and insights to move forward with confidence.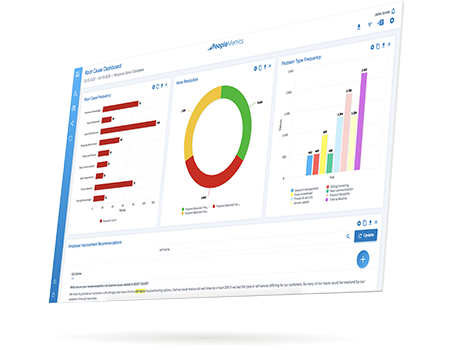 Our software also offers features designed to meet the unique needs of specific industries, including:
Hospitality
Telecommunication
Banking
B2B sales and services
Pharmaceuticals and biotech
We understand that different industries face a diverse range of customer satisfaction and experience challenges. Our background of adapting to meet the needs of various markets and providing fully personalized support makes PeopleMetrics a top choice for any business.

The comprehensive and robust features of PeopleMetrics, backed up with our full support, give you control over the entire CX process. Explore our site or request a demo to see the platform in action.
---
Customer satisfaction is extremely important for any business, and you need the right tools to help you measure it.

But don't get too caught up on satisfaction alone. Building relationships and driving real business results requires more than just gauging customers' post-transaction satisfaction and making sporadic, ad hoc improvements.

There's a much bigger picture of your customers' entire experiences that you can learn from. Customer experience software can help. With continuous, ongoing insights into every stage of the journey and the ability to carefully manage the experiences of your most important customers, you can begin to see some incredible business results.
---
And to learn more about the world of customer experience, keep exploring with our library of resources: