This post is the fourth installment in a series covering individuals leading the customer experience transformation within their organizations.
"The best way to speak to our culture change is really through the customer comments." This is Bridget Cox, Operations Analyst at Signature Flight Support. "We see customers saying, 'Wow! This is the first time I've been with Signature in five years and what a turnaround!' They talked about the price gouging in the past and now they talk about the service. These comments from our customers are exactly the impact that we are looking for."
Three years ago Signature got a new president, Micheal Scheeringa, along with a heavily revamped executive team. This was part of Signature's efforts to create a culture 100% focused on the customer. At the time, Bridget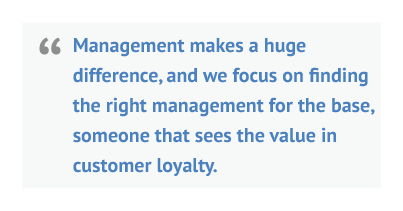 was working as an intern at ASIG, another company in the BBA family. Today she's not just an observer of the culture shift that has happened at Signature, she actively contributes to it by using customer feedback to provide insight for other departments looking to improve the customer experience.
Bridget uses customer feedback in several ways:
For regional vice presidents, she will use customer data to highlight problem areas, or monitor changes over specific time periods.
For Signature's Director of Amenities, she'll use open-ended comments to identify what is and is not working for Signature customers.
When Signature makes big changes to improve the customer experience, customer feedback is used to track the impact of those changes.
Bridget relates a recent example of Signature switching rental car providers:
About three months in, I pulled in all of the customer comments and complaints that we had about rental cars. I did that for the same period as last year and looked at the difference in the number and type of complaints. This way we could see how well the transition was going from the customers' perspective rather than just going by what we are hearing from the bases.
While Bridget owns the Voice of the Customer program at Signature she doesn't take much credit for the improvements in customer loyalty. "These changes are really because of how we manage the program base by base," Bridget says. She goes on to describe how each General Manager is responsible for taking action on customer feedback at their base. This level of accountability was put in place back in 2006 when they first partnered with PeopleMetrics to begin systematically listening to and acting on the voice of their customers. "Management makes a huge difference, and we focus on finding the right management for the base, someone that sees the value in customer loyalty." The approach has paid off big for Signature. In 2011 company-wide loyalty was 80%, a dramatic improvement over 2007's 55%.
Creating Memorable Moments
Giving managers the tools they need to take action on customer feedback is only one piece of the culture change puzzle. Signature also emphasizes the value of correcting customer problems in the moment to create a memorable experience. One policy to support this allows Customer Service Representatives (CSRs) to access up to $500 without manager approval to correct a customer problem. Last year Katie Rack, a CSR at the Dallas base, received the PeopleMetrics Brand Ambassador Award. Katie has exemplary stories about the way she uses these funds to create amazing customer experiences. Bridget relates this one of Katie's stories as one of her own personal favorites:
A customer that frequents Dallas was visiting with his his wife. His wife had just gone shopping and got all of these Christmas ornaments. It was a really windy day and when they walked out to the plane the bag flew out of their hand and the ornaments broke all over the ramp. They weren't leaving for about 30 minutes and the ornament store that they had gone to was just down the street from our base. So Katie went and bought them new ornaments before they left.
Another story involved helping a customer hit by a jet blast, "A plane was taxiing off and the customer fell and was scraped up and ripped his clothes. He was flying into another Signature location and when he arrived a CSR there had bought him a new pair of pants and a nice shirt and had it waiting for him."
These policies exemplify how integral employees are in delivering an exceptional customer experience. Most companies would balk at the idea of providing such free access to cash, and would have legitimate concerns about employees abusing the system. Bridget says simply, "We trust our employees and managers and have confidence that we hired the right people who won't take advantage of it." Then she echoes something that is a bit of Signature mantra, "It's all about the people you have working at the base."
Supporting the Change
A culture this singularly focused on the customer doesn't just build itself, and Signature has taken an intentional approach to supporting the culture shift. One way they do this is through Daily Shift Briefing. Laura Frampton, Signature's Director of Training, creates this brief daily and it goes out to every one of Signature's 113 locations; ensuring that every person in the company hears the same message every day. The typical format will focus on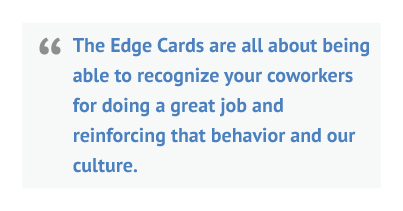 one of the company values, have an accompanying customer of employee story that reinforces that value, and then highlight some of the business updates such as gallons, safety indices, and loyalty scores.
Customer stories are used to recognize employees for doing great things for the customer, and Signature extends this recognition practice to internal employees as well using the Edge Cards. "The Edge Cards are all about being able to recognize your coworkers for doing a great job and reinforcing that behavior and our culture," Bridget says. These notes are hand-written for an extra personal touch. At corporate people hang their Edge Cards in their cube and bases are also encouraged to create a central place for sharing their internal recognition, "Just from my own experience, of getting and giving them," Bridget says, "It makes you feel good about the job you do for the company."
There is a lot of pride at Signature in their customer focus, and this is backed by investment from Signature's leaders in providing top-notch service training from the Ritz Carlton. Bridget just did her own training there in May of 2012, and speaks highly of the experience:
It's great to do this at the Ritz Carlton because they absolutely live this and it's helpful to see it in action while we were putting our Service with a Leading Edge training session together. Everyone that works there from the bellhop and the valet to the lady who was working with us is on point at all times. It's great for our employees to see that we're not just wasting money on a consultant to help us with this, but they can actually see what amazing customer service really looks like.
Plans for the Future
Today Signature boasts higher customer loyalty, fewer customer problems, greater satisfaction with problem resolution, and higher revenue than in 2006; but no one is content to stop here. The Service with a Leading Edge program is always being refreshed, "I've had General Managers tell me that after they do their service training they're so pumped up and everyone is a superstar," Bridget says with a bit of a laugh, recognizing how rare it is for people to get so enthusiastic about customer service training. There are ideas about adding more personalized perks for loyal customers and using iPads to improve the survey taking experience in the future, and Bridget is constantly using customer feedback to supply Area and Regional Directors with improvement ideas. "We've come a long way," Bridget comments in closing, "But we still have more work to do, this is always evolving, and it's a fun journey to be on."
~Janessa Lantz
Signature Flight Support Corporation (Signature), a BBA Aviation plc company, is the world's largest fixed-base operation (FBO) and distribution network for business aviation services. Signature services include fueling, hangar and office rentals, ground handling and a wide range of crew and passenger amenities at strategic domestic and international locations. Headquartered in Orlando, Florida, Signature currently operates at more than (100) locations in the United States, Europe, South America, Africa and Asia.
Posted on 03-19-2013