It's that time of year again! We have the winners of the PeopleMetrics Brand Ambassador Awards. Out of thousands, here are the top three individuals, and one team, recognized by their customers for their excellence in continuously working toward delivering a consistent customer experience.
The 2014 Brand Ambassadors:
We'd like to recognize the great work of all of these individuals on working toward delivering a consistent customer experience.
"The bread and butter of any business are the clients. Don't forget that," says Niki Bencik, one of the 2014 PeopleMetrics Brand Ambassador Award winner from Crowe Horwath LLP, one of the largest public accounting and consulting firms in the U.S. "They're people and like to be treated as people."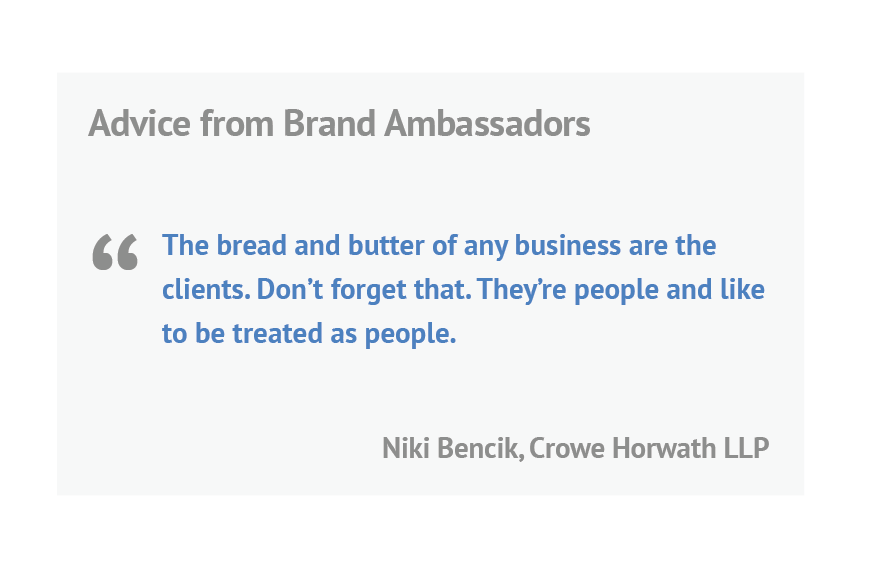 What is a Brand Ambassador?
Simply put, a Brand Ambassador is an individual that receives the highest number of kudos alerts from his/her customers.
They're the cream of the crop. They are the experts that know what their customers need and want (as you can read about in last year's post "Brand Ambassadors: How People Bring Your Brand to Life"), and their customers know and appreciate their dedication.
Brittney Kocaj, a Brand Ambassador Award winner from firm Crowe Horwath LLP, said, "I feel good about the work that I do." She goes on to say that providing exceptional client experiences is a reward in itself and she adds, "I enjoy the work so much more when my clients appreciate my efforts."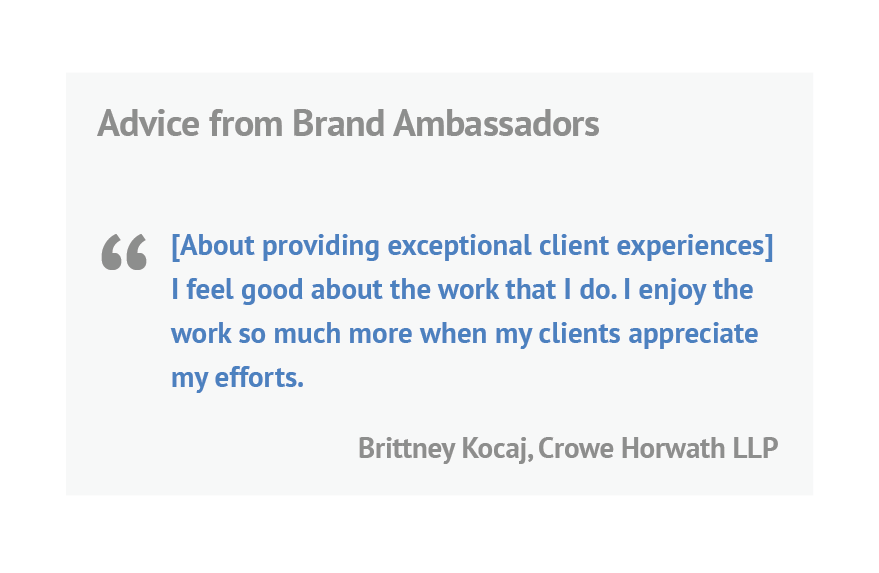 How Does PeopleMetrics Select Brand Ambassadors?
It's a two-step process:
Every year, we use our Voice of the Customer client feedback software and technology to pick out the clients that have received the highest rate of Recognize alerts (read more about a closed-loop system and action alerts here).

Then, within these clients, we look through the customer feedback and find the individuals that received the most Recognize alerts within each winning company.
We believe these individuals deserve public recognition. Through their actions, they make doing business easier and better, and we want them to know their efforts are appreciated.
Why Did We Start the Brand Ambassador Awards?
In PeopleMetrics customer feedback surveys, we include the question, "Has any individual gone above and beyond for you today?" and if the customer says yes, there is an option to tell us who it was and what they did that was special.
This approach allows the customer to reach out and give that individual a virtual high-five. Organizations can also use that information to better guide and train their employees.
Over the years, we started to see that some employees consistently receive these virtual high-fives. So we created the Brand Ambassador awards to honor our clients' outstanding employees.
What You Can Learn (for Free) From Your Own Brand Ambassadors

Your Brand Ambassadors are your experts, tuned to your business, and closest to your customers. Utilize their knowledge. These individuals will give you a ground-level view of the customer's needs and wants.
Sit down with them, and just chat. Asking questions like, "What do you think customers really need?" and "What could we do better for the customers?" will give you insight you never had before.
(If you're looking for a more formal solution, you can also send employee satisfaction surveys or use a Voice of the Employee software program.)
If you don't know who your Brand Ambassadors are, simply pick a person that has received customer kudos most recently. Ask him/her questions about the specific event that warranted the positive customer feedback. I guarantee you'll come away from that "free" conversation with something that is priceless.
-Xand Griffin
Become More Customer-Centric Today
Are you interested in discovering your true Brand Ambassadors? Do you want to be more customer-centric? Check out our self-assessment below to find out more.
Topics: Employee Experience, Customer Experience