Last week, many of us at PeopleMetrics attended the 17th Annual eyeforpharma Philadelphia conference at the Pennsylvania Convention Center – right down the street from our offices at Two Logan Square.
We had a lot of great conversations with some of the 800+ industry decision makers from Sales, Marketing, Patient Engagement, Patient Advocacy; as well as with patients, payers, and healthcare providers both on the floor at our booth and in large group sessions.
Interestingly enough, many of these conversations seemed to come back to one question – are patients being treated as partners? Lots of people we talked to (including us), felt that if patients aren't being treated as partners now, they certainly should be!

---
The Patient Must Be A Partner
We heard this message of "the patient as a partner" over and over again throughout the conference—most starkly from the patients themselves.

John Linnell at eyeforpharma Philadelphia
John Linnell, COPD patient and patient advocate, gave a moving speech advocating for involving the patient's feedback at each step of the journey. In his words: "If it's without us, it's not about us."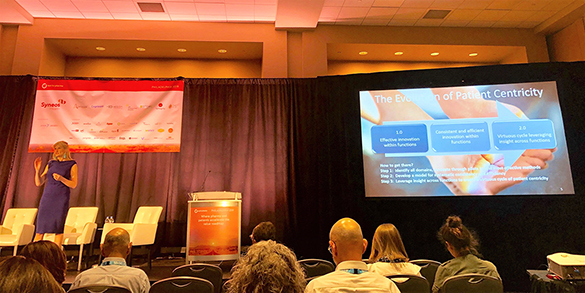 Amy Nicole Nayar at eyeforpharma Philadelphia
Industry leaders felt the same. Amy Nicole Nayar, Head of Global Patient Relations at AbbVie, spoke about the importance of authentic patient centricity; and the organizational "virtuous cycle" that can be created through the positive feedback loops that develop when the patient is truly at the center of the treatment.
She also warned against what can happen when this isn't the case. As she put it: "You can kind of tell if people are really there to help a patient or not".
Thus, it is imperative for patient-centricity to authentically permeate an organization.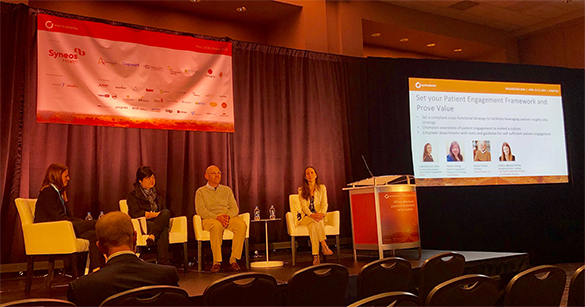 Andrew Schorr at eyeforpharma Philadelphia
Andrew Schorr, President of Patient Power LLC, a company devoted to helping patients and their families get the best knowledge and medicine throughout their treatment, had a similar perspective.
As both a patient and patient services industry leader himself, Andrew preached how important it is for providers "to see the patient as a partner throughout your whole company."


You Need to Know How You're Monitoring Your Patients
According to Steve Catani of United Healthcare R&D, when it comes to understanding your patients, "It's most important to know 1) who's at risk, and 2) how you'll monitor them."
There are many different approaches for involving the patient voice taking hold in the industry.
Kalahn Taylor-Clark, AVP & Head of Public Affairs at Sanofi, said that patient-centricity has been driven through methods such as using AI learning to run data on how clinical trials develop.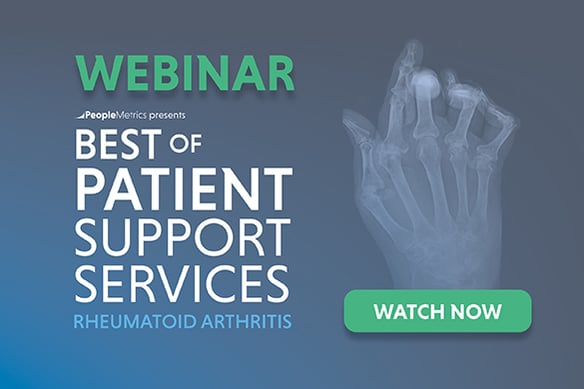 However, there are still long ways to go in terms of improving the patient's perceptions. As she put it: "Public opinion polls for pharma companies are just above tobacco."
In a world rampant with mistrust of big corporations and their even bigger datasets, Sanofi has chosen to work with patient advocacy groups to help build trust instead of losing it.
---

But how do you work with patients? What's the best way?
At PeopleMetrics, we believe in order to achieve a patient-centric culture, you need to start by listening to your patients.
In the words of PeopleMetrics founder and CEO Sean McDade PhD, "pharma's ultimate customer is the patient. The secret to becoming truly patient-centric is as simple as listening to patients about their experiences throughout the treatment journey."
As you start to build-out patient experience programs, remember to think of patients as partners, and set up systems to make sure you are hearing from them and responding to their feedback.
Want to do more with your patient feedback?
Contact PeopleMetrics:
About the Author
Eric Marturano is a Customer Experience Manager at PeopleMetrics. In that role, Eric is responsible for developing and managing patient experience measurement programs for multiple pharmaceutical companies. Outside of the office, Eric can be found at almost every Philadelphia 76ers game, playing the piano, or out enjoying the Philadelphia food and film scenes with his wonderful wife, Erin. Click here to get in touch.