Why should Pharma companies focus on Patient Experience (PX) in clinical trials?
Driving recruitment, improving retention, increasing adherence, reducing patient burden are all good reasons, but the answer that really resonated at PanAgora's Clinical Trials Patient Experience Summit last week at Bristol-Myers Squibb's Princeton Pike campus was:
BECAUSE it is the RIGHT thing to do!
---
Designing for, measuring, and improving PX in clinical trials should be the standard process, one that requires no further justification. But from a practical viewpoint, patient engagement initiatives are a financial investment, and for any investment, it is important to track ROI.
But how do you quantify the value of patient experience – the difference, for example, that a customer-service oriented research nurse at a trial site can make to metrics like enrollment and retention?
What Pharma is doing
Forward-thinking Pharma companies recognize that when evaluating ROI on the patient experience, they need to think beyond finances. PX impacts trust in the brand and reputation in the industry.
In the context of the recent Gallup poll on consumer perceptions where the pharma industry rated below electric/gas utilities and oil & gas, it is especially important that pharma companies perceive their expenditure on patient experience as an investment in their brand and reputation as well.
Again, it's the right thing to do.
Many companies have started to actively listen to and act on the Voice of the Patient (VoP).
In the clinical trial space, clinical teams are working to change the conversation of PX from "what we subjected patients to" and "what we occasionally got patient input on" to "what we co-created with patients" and "how the patient's voice is vital to better clinical trial outcomes."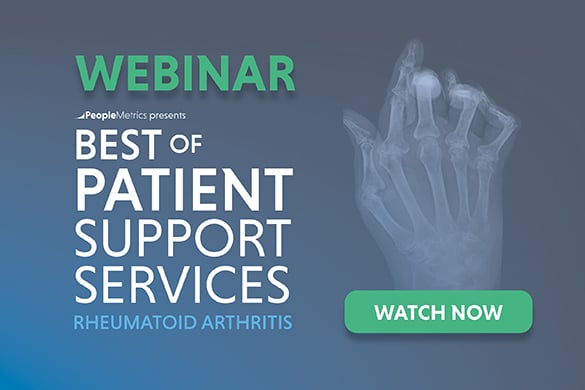 Three Factors to Consider
At the conference, there was a lot of good discussion on the challenges with patient recruitment and retention, and the importance of patient experience.
As a PX measurement company, three things really resonated with us:
The research nurse at the trial site is the face of patient experience

There are a lot of entities involved in a clinical trial – study sponsor, CRO, country manager, site manager, investigator, study coordinator etc.

But it is really the research nurse/coordinator who is the point person for a patient – he/she serves as the face of the trial, represents the sponsor, and translates the patient experience that the protocol is designed to create.

To drive patient retention and improve patient experience, more investment is needed in educating research nurses/coordinators about customer service skills. Research nurses/coordinators manage the relationship with the patient – feedback from these audiences is an important component of a holistic PX measurement program.


Caregivers feedback matters

A patient does not get a disease, their family does.

Caregivers are often the unsung heros in a patient's clinical trial journey – they are the shuttle to and from the site of care, they are person that supports the patient when they enroll, encourages them to continue, and sits with them while they receive treatment.

Caregivers are an important part of the retention equation – feedback from them should be part of a comprehensive PX feedback measurement program.


PX measurement needs to be patient-friendly

Having made the decision to collect patient feedback, it is important to consider how and when this feedback should be collected. Yes, surveys are a great way to do this from a quantification perspective, but only if they are patient-friendly – short, simple, with focused actionable questions.

The goal should be to collect feedback related to the experience vs. detailed scientific data. The need of detailed scientific data collection can be addressed through a different approach.
Tracking Success
Often study sponsors say "What is the value of collecting patient feedback in real-time throughout the trial if we can't really act on the feedback? Once the protocol is set it is very hard to change."
From our perspective, asking a patient/caregiver for feedback throughout the trial is a way for pharma to reach out and stay connected with patients. Yes, some type of feedback might not be able to be acted upon immediately. But feedback like satisfaction with trial site, perceptions of trial visit, feeling respected through the process etc. can be acted upon. And over time can be linked to metrics like retention.
What gets measured gets done.
Measuring patient experience in clinical trials is fast becoming best practice. Knowing site performance on controllable attributes and taking corrective action might make all the difference to patient experience and retention.
Are you listening to the voice of the patient?
Listen to patients in Clinical Trials.


Contact PeopleMetrics:
About the Author
Reshma Bennur is the Vice President of Customer Experience at PeopleMetrics. She leads the organization's patient experience practice and serves as the strategic lead for the design and deployment of Patient Experience Measurement programs in the Pharma and Healthcare space. Click here to get in touch.
Posted on 09-26-2019