Pharma CX (customer experience) is completely changing how pharma companies onboard patients to new medications, drive long-term adherence, and improve their clinical trial retention and recruitment efforts.
CX should be top of mind for any company that wants to succeed in today's competitive environment—one that requires providing truly seamless experiences both online and in-person. But it's especially important for pharma.
The complexities of the healthcare industry can make building meaningful connections with patients and HCPs challenging. Effective CX strategies make it easy to ensure you're offering positive experiences and continually improving through direct feedback.

In this crash course, we'll cover the following:
Pharma companies have the ability to make real, beneficial changes in patients' lives. But doing so requires paying attention to every facet of how patients and HCPs engage with your brand. Simply put, no one else is in control of your customers' experience with your company—it's your responsibility to make it a positive one if you want them to remember and value it.

Pharma CX: What is it, and Why Does it Matter?
What is pharma CX?
Pharma CX (customer experience) is the process of intentionally creating, continuously measuring in real-time, and proactively managing the customer experience in pharmaceutical settings. It's built on the concept that all of the interactions between a pharmaceutical company and its customers, whether patients or HCPs, shape their impressions of it and their emotional connections to it.
Put into action, pharma CX involves collecting feedback at critical points in customer interactions in order to solve problems as they arise and to develop iterative changes over time. It gives you the framework and tools you need to learn from your customer interactions and make concrete changes based on data and feedback, not vague hunches.
Why does it matter?
Pharma CX benefits both pharma customers (including patients, caregivers, physicians, and other HCPs) and companies alike. Strong CX encourages long-term connections with your brand and products, and it gives customers the support they need in order to see positive outcomes. Taken together, these benefits can drive significant business results.
Looking at the broader context, pharma CX matters more than ever before for a few key reasons:
The pharmaceutical industry has become increasingly specialized and consumerized. Patients are effectively co-customers alongside HCPs and healthcare organizations, but they aren't usually prioritized or treated as customers.

Pharma companies owe their customers positive experiences today, along with the inherent ethical obligations of respect, care, and privacy.
Proactively seeking customer experience feedback allows for deeper insights and fine-tuned control, which can be hugely beneficial in both commercial and clinical contexts.

Effective CX strengthens your patient support services and can improve the chances of successful medication onboarding and adherence—driving revenue and improving patient outcomes in the process.
CX can also greatly help with clinical trial recruitment, diversity, and engagement, meaning more valuable results to shape product development.
Pharma CX also opens an additional avenue for adverse event reporting by sourcing more direct feedback from patients and HCPs. An effective CX partner (like PeopleMetrics) can flag AE feedback and quickly send it to the appropriate sponsor contact, ensuring no important comments fall through the cracks.
And even aside from these healthcare-specific reasons, customer experience deserves attention because it has taken off as a differentiator between industry-leading organizations and middling performers. Major players in all corners of the economy have begun appointing chief experience officers (CXOs) to oversee customer experience management and use it to drive business results.
How does pharma CX differ from market research?
Although pharma CX and market research both aim to drive results and guide strategies with data, there are a few key differences to remember:
Pharma CX
Pharma Market Research (MR)

Ongoing Process

CX is a continuous process that helps improve experiences in real-time. From there, lessons learned are implemented to improve future experiences.

Single Point in Time

MR occurs at a discrete point in time, like before, during, or after a product launch, to gauge market trends and customer impressions.

Broad Census

CX takes a census of patients, HCPs, and other stakeholders who engage with your product or brand, ensuring fuller, more diverse datasets.

Smaller Samples

MR relies on smaller samplings of participants. It's a more targeted approach but can inadvertently exclude important perspectives.

Individual Insights

CX offers insights into individual experiences with your products. If a patient struggles with onboarding, your support team can reach out to help.

Aggregate Insights

Findings from MR are aggregated and personally identifiable information is not available, so it cannot be used to guide individual outreach.

Removes Internal Silos

CX tools provide greater access and transparency across your team. With the appropriate access, anyone can use CX data to better serve customers.

Inherently Siloed

MR studies are inherently less transparent. Your team will rely on curated reports of MR findings to guide decisions.
Pharma CX and market research are both valuable tactics in different contexts. The key differentiator is that CX offers feedback in real-time, meaning you can use its findings to drive more immediate improvements and quicken your iterative improvement cycles. Market research can offer highly-targeted insights in a controlled environment, but it's also a slower process that occurs at a single point in time.

The Pharma CX Process
How does pharma customer experience work? We break it down into a few cyclical steps: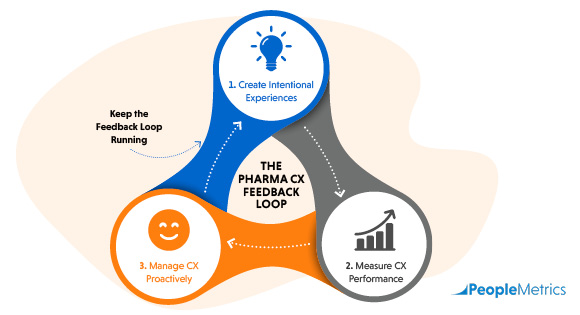 Create intentional experiences. Start by identifying and/or creating a specific customer experience that you'd like to analyze and improve.
Measure your performance in real-time. Use web analytics, pulse surveys, and other CX tools to measure how customers are engaging with your experience and how they feel about it.
Manage your CX proactively. Create processes for actually following up on CX issues and acting on opportunities as they arise.
Keep it all running in a continuous feedback loop. Make iterative changes to your CX over time as you learn more, try new tactics, and refine your processes.
The CX model, a feedback loop of customer experience creation, measurement, and management, can give any business an infrastructure for developing exceptional customer experiences and services.
What this Feedback Helps You Accomplish
Broadly speaking, more feedback creates more opportunities to understand where, how, and why your customers are experiencing issues that need improvement. This makes it possible to quickly direct your attention to problem areas or conduct individual outreach as appropriate.
Specifically, CX can help you proactively identify and resolve issues as they arise in these areas:
Clinical trial recruitment and onboarding
Retaining clinical trial participants and driving adherence
Identifying adverse events during the trial
Product launches
Medication onboarding
Postmarketing adverse event reporting
Patient support services and ongoing case management
The pharma CX model is used in two general settings: clinical and commercial:

Pharma CX: Clinical Settings
Customer experience can be used to improve how clinical trials are run and how patients, caregivers, and HCPs engage with them.
Pharma companies are already using proactive CX in clinical settings to refine future protocol design and recruitment strategies, drive retention during trials, increase participant diversity, and more. Plus, the FDA's Patient-Focused Drug Development initiative encourages collecting and using patient feedback throughout the duration of clinical trials. Pharma CX gives you the tools you need to embrace this guidance and proactively improve your trials.
Here's how the CX process works in clinical settings: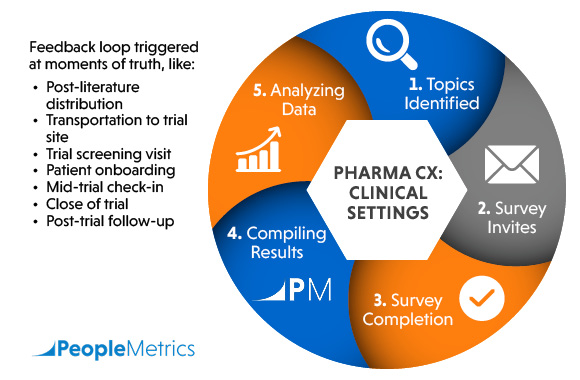 Identify topics for patient outreach.

These are determined by the moments of truth that you identify in the broader patient experience or journey of the trial (more on these below).

We recommend Transcelerate's SPFQ (Study Participant Feedback Questionnaire) as a starting point that will help cover your bases when developing survey topics.

Invite patients to complete a brief survey provided onsite via a generic link on a patient handout or on an iPad.
The patient (or caregiver, HCP, or other stakeholder) completes and submits the survey.
Compile your survey results. With PeopleMetrics, this feedback is available in real-time for immediate use.
Analyze your aggregated feedback data for trends and important insights. Are there issues that need addressing?
Use your findings and evolving understanding of the patient journey to identify new topics for outreach.
Here's an example of this process in action:
A global pharma company was seeking ways to make complex materials shared at the start of oncology trials more patient-centric. PeopleMetrics developed an ongoing pharma CX program to continuously generate feedback related to the materials. The goal was to quantify patient awareness of the materials, the efficacy of their design, and perceptions of the language used.
In eight countries and in six languages, patients were provided survey links that allowed them to choose whether to complete the questionnaires anonymously, onsite or at home.
Here's what we found: Although patients were aware of the materials and felt knowledgeable about the topics after reading them, 50% of patients still had questions, and 30% found that the visual display of information needed improvement.
The company then used this feedback to redesign the trial materials with more intuitive layouts and relevant information. These changes were immediately deployed in a separate oncology trial, and customer experience has improved.
The pharma CX model allowed the company to identify specific pain points that were impacting patient experience using direct feedback and data, not guesswork.
And unlike pre-trial research, in which participants encounter literature at a single point in time and outside of their actual context, CX feedback here provided direct, real-time insights. Patients provided their direct feedback as they engaged with materials, giving the company more accurate and contextually relevant perspectives on their trial literature.

Pharma CX: Commercial Settings
In commercial settings, pharma CX can greatly improve the quality of your patient support services over time and help you more efficiently reach out to individual patients as needed.
With a reliable way to quantify patient sentiments and customer experiences, the process of making improvements is greatly simplified. Patients feel listened to, and the company has hard numbers to help make the case for change. The CX model is particularly helpful for improving patient support services and new product launches over time.
Here's how the CX process works in commercial pharma settings: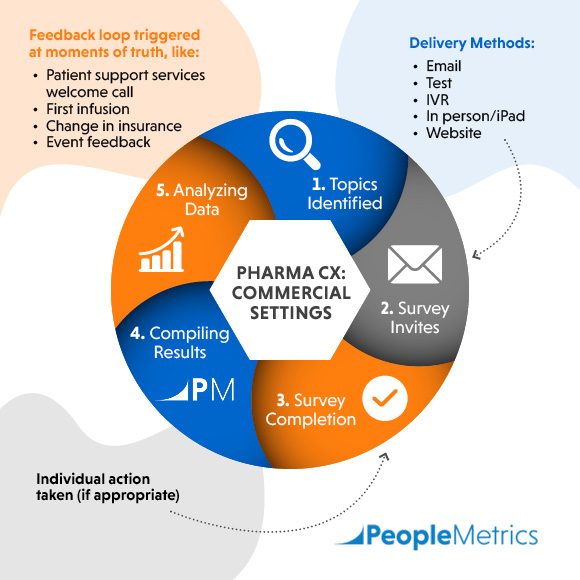 Patients, caregivers, or HCPs are identified for outreach. This step will depend on the moments of truth that you've identified in the customer journey, like the first welcome call or first infusion.
Invitations to brief surveys are triggered and sent to the identified respondents.
The patient, caregiver, or HCP completes and submits the survey.
Compile your survey results. PeopleMetrics can collect this feedback in real-time for immediate use.

At this stage, it may be appropriate for your team to take individual action. Has a respondent reported extremely negative experiences that jeopardize their onboarding and adherence? Reach out to resolve the issue!

Analyze your aggregated feedback data for trends and important insights.
Use your findings and evolving understanding of the customer journey to identify new topics for outreach.
Here's an example of this process in action:
A global pharmaceutical company implemented an assigned-case-manager model for their patient support services and wanted to use CX to track feedback and make improvements. Patient perceptions of their case manager were identified as a critical moment of truth to be studied and improved.
PeopleMetrics developed a pharma CX program to collect and analyze feedback through emailed surveys following patient-case manager interactions. If patients provided negative feedback, alert notifications were triggered to show responsible team members that issues needed resolving.
And beyond this immediate benefit of pinpointing customer issues, the CX program revealed ways to drive broader improvements. We found that patients felt supported by the case manager model, but certain conversations with case managers left them frustrated. Specifically, many patients had questions about their disease state, which case managers cannot legally discuss. And in addition to this frustrating information blockage, patients also weren't provided with direction about where to find answers to their questions.
The company designed a new, improved experience in response to these findings:
They standardized the process of answering questions that are out of scope for case managers by creating scripts and guidance for connecting patients with the right sources for information.
They gave renewed attention to setting appropriate expectations with new patients about what types of questions case managers can and cannot answer.
They created and rolled out an updated case manager training program to support these changes.
The result: A 17 point increase in case manager satisfaction! By listening to patients, digging to the roots of their frustrations, and making some easy changes, the company designed a better, more patient-centric experience.

Understanding the Pharma Customer Journey
Most organizations today are familiar with the concept of the customer journey, and it's an integral part of customer experience design and management.
The pharma customer or patient journey encompasses all of the possible touchpoints and interactions between your company and customers, from initial discovery and research to prescribing decisions, onboarding, case management, and follow-up.
To use your customer journeys as strategic CX tools, you'll have to map them. Historically, patient journey mapping has focused more on the end results of medication rather than on the feelings and impressions patients get along the way. Effective pharma experiences should take both elements into account - the end results and how you help get patients there.
Here's an example patient journey, broken down into four core stages related to how or where the interactions are occurring. This patient has been prescribed a new medication and is using the pharma company's patient support services to find support for the onboarding process: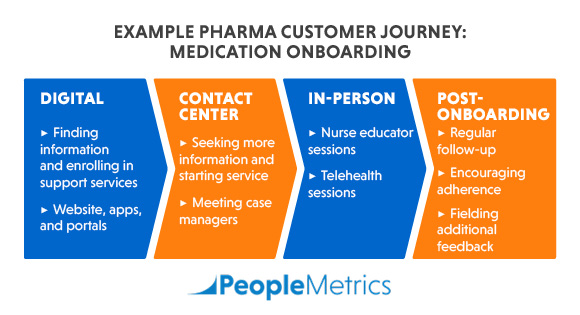 Digital. The patient first turns to the company's website, apps, and portals to find information and to enroll in the support program. When mapping this stage of the journey, try to answer questions like:


Is it easy to enroll in the patient support program?
Is it easy to find the most important information about the program, medication, copay help, treatment centers, and/or transportation options?
Is it easy to log into the portal?

Contact Center. Next, the patient gets in touch with the company for answers to any other questions or to get started with support services. When it comes to disease management, patients often rely on the help of case managers just a phone call away, so consider questions like:

Are support service phone numbers and contact info easily accessible?

Are case managers available, knowledgeable, respectful, and empathetic?

Was it easy for the physician to explain the support program and how to enroll?

In-Person. For especially complex medications, nurse educators may need to meet with patients or HCPs in person (or through telehealth sessions) to walk through details about the medication and how to use it. These sessions can be critically important for effective onboarding and adherence, so when mapping this stage, consider questions like:

Did the nurse educator arrive on time?

Did the nurse educator communicate clearly and provide easy-to-understand literature?

Does the patient feel comfortable administering their medication after meeting with the nurse educator?

Post-Onboarding. Regular follow-up to encourage patient adherence is a must to ensure patients receive the intended benefits of their medications. To improve customer relationships at this point, ask questions like:


Do patients have issues traveling with their medication?
How easy has the medication been to administer?
Has the patient been able to easily reach their case manager as needed?
By mapping out these stages, including how the interactions occur, who's involved, and the patient's needs and wants, pharma companies can develop a holistic picture of the entire journey and begin identifying CX pain points that need addressing.

"Moments of Truth" in Pharma CX
Understanding the "moments of truth" or pain points in your patient journeys is the first step towards proactive customer experience design and management.
We define moments of truth as points in the journey that, if they go poorly or don't occur at all, a customer outcome will be in jeopardy. Examples include a patient not successfully onboarding or a physician not prescribing the medication in the first place. To determine your own moments of truth, the key question is:
How much pain will your customer incur if a touchpoint does not go well?
As explained in the Pharma CX Process section above, customer experiences are created around the moments of truth that can make or break your success or patient outcomes. During the CX process, you'll learn more about these moments or truth or discover new ones that you didn't realize existed.
Prioritize addressing the moments with the biggest potential impacts through surveys and individual outreach. Consider a variety of potential solutions that can improve the experience from the start. How can you exceed expectations and build stronger relationships with your customers?
One easy example might be transportation to treatment centers. There are a number of experiences your patient support program could implement:
Listing treatment centers on a support services website or portal and equipping case managers with lists to share with patients.
List treatment centers online plus comprehensive public transportation details.
Use a rideshare company to offer patients free or discounted round trips to their closest treatment center.
All three are reasonable solutions that will improve the customer experience. But the third option stands out as a way to truly exceed expectations and show patients that you value and respect their experience.
Pharma CX revolves around identifying moments of truth, learning more about how customers experience them, designing improved experiences, and continually measuring and managing your performance. They're the very first places where you should employ continuous listening programs and open up lines of communication for fielding feedback.

Pharma CX and the Regulatory Landscape
Finally, let's review how pharma CX design and management relate to broader pharmaceutical and healthcare regulations. Regulatory constraints can limit the extent to which pharma can manage customer experiences, so it's important to understand them before diving into CX redesigns and initiatives.
Here are the most important features of the regulatory landscape to keep in mind:
Additionally, adverse event reporting requirements must be considered during all phases of clinical trials and product rollouts. An experienced CX partner will flag relevant comments for you and report them to the correct contacts at your organization.
The regulatory landscape can certainly be complicated, with gaps, areas of overlap, and unclear guidelines. But as the industry continues evolving and pharma increasingly interacts directly with patients, understanding these and related laws has become even more important.
But do these restrictions necessarily preclude proactive CX design and management? Absolutely not.
After all, pharma companies already navigate and comply with these laws to market and advertise their products. Remember, great customer experiences aren't about kickbacks. They're about fostering positive emotional connections and showing customers that you truly value their business.
---
With a steady flow of customer feedback from all directions - clinical trials, medication onboarding and adherence, patient support and case management, and adverse event reporting - CX gives you the data and structure you need to make impactful changes over time.
Pharma has the incredible opportunity to expand its thinking on how to help people, and CX is the framework for making that opportunity a reality. And with PeopleMetrics, it's easy to get started.
To learn more about pharma customer experience design and management, keep exploring with these resources from PeopleMetrics: