"Marketing without data is like driving with your eyes closed." In my previous life in pharmaceutical market research, I heard this phrase in keynote speeches at conferences, saw it plastered on website branding, and typed all over the LinkedIn profiles of market research salesmen (guilty).
This clever quote speaks to a universal truth in this information age: when it comes to business decision making, actionable data drives business strategy, tactics, and operations.
Data collection is not only a great way to "CYA" if marketing strategies or other business decisions go awry, but it also provides a framework for businesses to learn how to better serve their customers (or in this case, patients) in day-to-day interactions.
In the traditional sense, this process involves designing a questionnaire or discussion guide, collecting feedback from a "representative" sample of potential consumers, analyzing the raw data, building a report, identifying actionable recommendations, and then presenting the recommendations to the powers that be. And in many cases, this approach is perfectly effective and valid.
However, in the agile world we live in, market pressures dictate that it's no longer effective to wait months for data before making a decision.
---
The Value of Market Research
Traditional market research is invaluable and irreplaceable when it comes to positioning a product for commercial success. From pre-clinical to post-launch, market research identifies the unmet needs of a target population, confirms market viability, tests the concept and potential messaging, determines appropriate pricing, tracks awareness and usage, etc.
However, despite the tremendous value market researchers add across the product lifecycle, this traditional approach is not the most effective way to get data when you need to support an immediate marketing decision for a commercial product.
When I worked for a market research vendor, a constant theme was that potential prospects are always looking for "faster and cheaper." The traditional process to execute a market research project required that if you wanted to minimize time and price, you were also forced to sacrifice quality. That's where VoC comes in.
Where VoC Comes In
Once a drug is commercially available, a real-time Voice of the Customer (or in this case, Patient) program allows cross-functional teams to periodically get a "gut check" on whether or not marketing related activities are working in the eyes of the patient population that they're intending to support.
By working with the marketing consented patients who are currently on therapy (and also the direct beneficiaries of your company's ability to effectively market to and support them), you can quickly collect feedback, make a decision, or course correct if necessary.
And you can do all of this without worrying about a recruitment or honorarium fee. In fact, with some engaged patient populations, we've seen response rates as high as 30% without incentive. Thus VoC is a faster and cheaper way to collect feedback without sacrificing quality.
What are some of the other benefits of a real-time Voice of Patient program? Everybody loves a good list, so for starters:
Quickly get data to support key business decisions in real time


Get a gut check on whether messages/concepts are resonating with your patient base


Determine if there are gaps in patient support that need to be addressed to drive adherence


Understand your patients' perceptions of your services in real-time



No incremental cost-per-complete – unlimited survey invitations and responses from your patient base
By collecting feedback from patients in real-time, pharmaceutical companies can develop a rapport with their patients and create a more consistent and positive patient experience across the treatment journey in ways that were previously impossible through market research.
How They Play Together
If you're in a market research role, you might be thinking, "Here we go again – in addition to big data, artificial intelligence and machine learning, now we have to contend with real-time Voice of the Customer programs." Fear not! This is far from the truth.
Market researchers are an integral part of instituting a real-time VoC program. In fact, at PeopleMetrics, we work closely with our clients' market research teams to execute agile, ad-hoc market research projects.
On the front end, market research is a critical partner in effectively designing and finalizing the survey instrument. We use benchmarks and best practices to guide the look, feel and design of the survey as well as identify what questions to ask when. Market research brings an intimate understanding of their respective product, disease state, competitive outlook; as well as years of survey design experience to reduce bias and maximize respondent engagement among their unique patient population.
On the back end, market research and insights professionals work with our team of data analysts to ensure that the insights gleaned from the program are actionable and driving the intended outcomes. Our powerful real-time dashboards add immense value in accessing and analyzing data quickly, but it's the human touch and patient-centric focus of the market research team that really brings the data to life.
When you develop a consistent rapport and long-term relationship with your patients and they start expecting to hear from you (and expecting to be listened to), they are much more likely to respond to your questions. This in turn drives up response rates and increases the value of the output.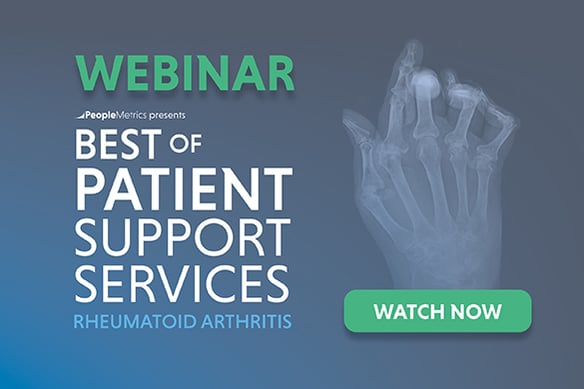 Our programs provide a platform for market research and marketing teams to easily execute message testing, concept testing, and other ad-hoc studies, leveraging your actual patients as the sample. This relationship allows PeopleMetrics to dramatically shrink the time between design and delivery because we are not starting the design and recruitment process from scratch.
---

In Conclusion
In thinking about how to effectively build and execute a successful real-time VoC program in the pharmaceutical industry, the proverb "it takes a village" comes to mind. While many stakeholders play an important role in advancing a pharmaceutical company's patient-centric mission, it is often the market research professionals within the organization acting as the adhesive that brings the vision together.
If you are a patient services professional managing a real-time VoC program without a market research stakeholder, consider the value to be gained by consulting a market research colleague on the design and execution of your program.
If you are a market research professional and don't have a seat at the VoC table, consider the value to be gained by having access to patient feedback in real-time for ad-hoc research.
Finally, if you are in marketing and you're tired of waiting for data to support a decision, find a vendor with real-time feedback collection and reporting capabilities to help you achieve your goals.
Tired of waiting for data?
Contact PeopleMetrics:
About the Author
Matt Salvetti is the Sales Manager at PeopleMetrics. With a background in marketing and market research, he is passionate about helping organizations incorporate the voice of the customer and patient into strategic business decisions. Outside of work, Matt is a bit too passionate about the Philadelphia Eagles, Flyers, Sixers and Phillies. When not busy yelling at professional athletes on his TV screen, Matt is an expert at finding his way into (and sometimes out of) sand traps at his local golf course. Click here to get in touch.
Posted on 06-03-2019