Managing the customer experience (CX) is now established as a business practice at most companies.
It goes by many names – Customer Experience Management (CEM), Customer Feedback Management (CFM), Voice of Customer (VOC) – but the idea is the same: Listen to customers during or immediately after an experience and take appropriate action on that feedback to improve CX.
For most companies, not managing CX is akin to not having a CRM or an accounting system. In other words, it's unheard of.


---
Hospitality

Blazed

The

Trail In C

ustomer Experience (CX)
In the beginning, higher-end hotels were the first to embrace the importance of managing CX.
This is not surprising, as hotels such as Four Seasons, Mandarin Oriental and Ritz Carlton provide a highly differentiated experience to their guests (at a premium price). It makes sense that they would want to know the quality of each and every guest's experience.
But CX programs aren't just in hotels anymore. Now you'll find them everywhere – banks, telecommunication companies, retail stores, car dealerships, restaurants, utility companies, airlines… even your local pizza shop.


Today, Pharma Is Following Suit

with P

atient Experience

(PX)
If you have been to a doctor's office or hospital lately, you know that they often ask about your experience (and in certain cases, are required to do so by law).
For the purposes of this blog post, I am not talking about that PX, but instead about the experience patients have with their interactions with Pharmaceutical companies, HUBs and specialty pharmacies. In other words, the patient's experience on their treatment journey (clinical or commercial) and the services/support that is offered along with those treatments.
Pharma PX is relatively new and super exciting – and there is a lot we can learn from the CX leaders in other industries who have come before.
In this blog post, I will share 3 lessons learned from CX in traditional industries and apply them to Pharma.


3 CX Lessons Applied to PX
1. Patient centricity begins and ends with listening to patients
A consistent theme with almost all Pharma companies is that they are (or are striving to be) patient-centric. Similarly, customer centricity is a common goal for CX leaders in other industries.
But what does "customer (or patient) centricity" really mean? How can a company truly embrace the customer or patient? And how can this become real for employees within these companies?
CX leaders have long realized that listening to the customer is the launchpad for becoming customer-centric. And companies have gotten really good at listening to customers. But the most customer-centric companies do not just collect customer feedback to check a box – they use it as a strategic asset to retain customers and attract new ones – by not only listening, but truly using customer feedback to make changes to the company that improve CX.
Pharma has that same opportunity.
Pharma has long been good at getting patient feedback for marketing and product initiatives via patient focus groups and other types of research. However, on fundamental aspects of the treatment journey like clinical trials and the patient services that patients receive every day, there is an opportunity to do more.
Patient feedback on Patient Services (offered either directly from the Pharma company, or through a HUB or specialty pharmacy), if done strategically and consistently, can drive key outcomes such as successful onboarding onto a new medication and increased adherence.
The voice of the patient can also lead to more effective clinical trials, patient engagement technologies that patients actually use and marketing messages that patients understand.
Once the patient's voice becomes the focal point rather than just a "nice to have," patient-centricity becomes real and the benefits multiply for all stakeholders.
Using the patient's voice as a compass for key decisions also provides tangibility for Pharma employees to understand what patient-centricity is and how they can contribute to the patient experience.
2. Measure PX across the full treatment journey
CX leaders know that consistency is everything when it comes to customer experience. A great experience at a store will be cancelled out by a poor experience on a website or a frustrating experience calling into a contact center.
For that reason, CX leaders are obsessed with mapping the customer's journey and ensuring a consist experience across all touchpoints. This typically starts with identifying all touchpoints where the customer interacts with the company. These touchpoints are usually bucketed into in-person, digital and contact center.
CX leaders measure the experience customers have with all key touchpoints, assign responsibility for each touchpoint to specific people (often tied to goals and compensation) and establish a process for following up on poor experiences.
For Pharma, there is an increasing need for listening to patients across their treatment journey:
On the commercial side, understanding the patient onboarding experience is critical to successful outcomes. As more and more medications offer Patient Services, getting feedback from patients as they interact with these services is becoming vital.

Touchpoints for Patient Services are similar to what we have seen in CX - in-person (case managers), digital via patient engagement technologies (websites, patient portals, apps) and contact centers. Similar to CX, a great experience with a case manager can be canceled out by a poor experience with a digital patient portal.


Within clinical trials, it's not only possible to get patient feedback on the enrollment process, informed consent materials and key milestones – forward-thinking Pharma companies are already doing it!

Collecting patient feedback in clinical trials is not without its challenges, but those companies who see the opportunity are using patient feedback to improve future protocol design, fine tune recruitment strategies, drive retention and more. The return on investment can be huge.
Throughout commercial and clinical treatment journeys, patients have very different therapeutic and financial needs at different stages – and failing at any one of them can cause a drop in adherence, or lack of retention.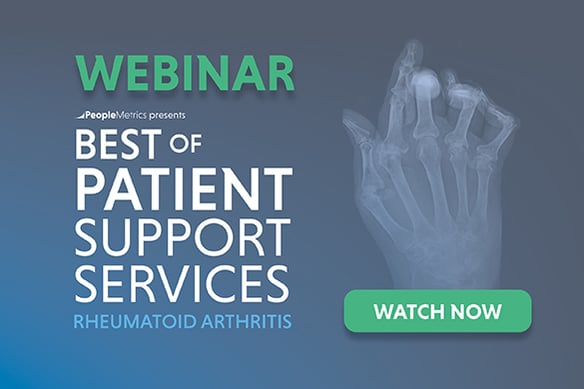 3. Share patient feedback in real-time with the people responsible for the patient experience
CX leaders know that customer feedback will not be effective if hoarded within organizational silos and that it must be shared in real-time with the people who are serving the customer every day.

In this way, VoC (Voice of Customer) has disrupted the traditional market research workflow, where a study is commissioned, it ends, the market research firm analyzes the results and then delivers a detailed report a month or two later. The unfortunate truth is that those reports rarely found their way to the people serving the customer every day, and if they did, it was many months later, so they weren't as useful.
How times have changed. Now with VoC, customer feedback is provided in real-time to people who serve customers every day. They know their customer satisfaction or Net Promoter Score (NPS) on a minute-to-minute basis, how far away they are from their goal (great CX companies provide departmental and even individual goals), where they are strong and where they need to improve. These folks are also following up with individual customers who had poor experiences and working on larger initiatives to improve CX overall.
CX leaders have realized that customer experience data is most effective when thoughtfully shared in real-time with the people who can act on it.
Can you envision an environment where the patient's voice is being shared in real-time with the people who are tasked with making sure their experience is excellent every day?
I can, because our Pharma clients are already doing this.
Our patient listening programs are allowing our Pharma clients to provide better patient services, follow up with patients who do not feel prepared to begin treatment of a new medication, create more effective communications for clinical trials, develop patient engagement technologies that actually engage patients and much more.
But most importantly, our programs are helping to create Pharma companies who are truly patient-centric.
Their employees are now empowered to create better patient experiences and have the information at their fingertips to do so. These employees understand what they can do today to create a patient-centric organization. It's real to them.
---

Conclusion
It's common to hear that healthcare is the next frontier for the customer experience. My view is that Pharma has the largest opportunity in the healthcare arena to impact patients' lives through better experiences.
There is a lot to learn from how CX leaders in other industries have gotten closer to the customer using feedback as their guide and it is important for Pharma to apply lessons learned from world-class CX leaders.
Although Pharma faces regulatory barriers that hotels and other traditional CX leaders do not, the opportunity to create experiences for patients that are not only memorable but can extend and save lives is incredibly important.
I am excited that Pharma is embarking on this journey!
Want to do more with your patient feedback?
Contact PeopleMetrics:
About the Author
Sean McDade, PhD is the author of Listen or Die: 40 Lessons That Turn Customer Feedback Into Gold. He founded PeopleMetrics in 2001 and is the architect of the company's customer experience management (CEM) software platform. As CEO, he guides the company's vision and strategy.

Sean has over 20 years of experience helping companies measure and improve the customer experience. Earlier in his career, he spent five years at the Gallup Organization, where he was the practice leader of their consulting division. His company offers CEM software with advanced machine learning solutions and hands-on analytical support to help companies make sense of their CX data.

Sean holds a Ph.D. in Business Administration with a specialization in marketing science from Temple University in Philadelphia. He has published eight articles in peer-reviewed scholarly journals and has taught over 25 marketing classes. Sean was named a 40 under 40 award recipient of the Philadelphia region. He is an active Angel Investor, including investments in Tender Greens, CloudMine and Sidecar.